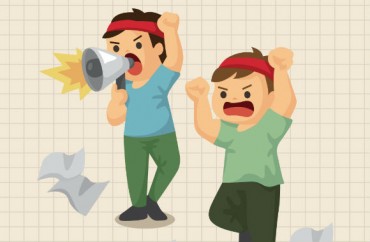 University of North Carolina officials announced Monday that the controversial memorial to Confederate soldiers known as "Silent Sam" would be housed in a new facility, and it did not take long for protesters angry at the news to take to the streets.
The UNC plan — putting the statue in a new "high-security History and Education Center" on campus — will cost over $5 million to put together and then $800,000 per year to maintain, according to The Daily Tar Heel.
"This site most closely fits both the recommendations from the safety panel and the criteria established for relocation by the current monument law," Chancellor Carol Folt and Provost Robert Blouin said in a statement.
By Monday evening, demonstrators were out in force denouncing the move.
UNC senior Leeza Mason said "UNC prides itself on diversity and inclusion, and having that statue on this campus obviously shows that it doesn't stand for diversity and inclusion. That statue stands for racism, the confederacy and basically keeping slavery on this campus."
Duke University senior Sabriyya Pate added "Commemorating white supremacy at any university is wrong […] there is much more to be done in terms of holding our institutions accountable to address white supremacy and racism."
Monday's protest was not UNC senior Savannah Patterson's first against Silent Sam.

"I have a lot of privilege as a white person, and I feel like speaking out is all I can do with my privilege," she said.

During the speeches, a man repeatedly interrupted the speakers, screaming. He was met with a chorus of yelling, including calls of "racist, go home!"

Those weren't the only chants intermingled throughout the speeches. Most of them stressed the power of banding together: "Ain't no power like the power of the people, because the power of the people don't stop!"

At around 8:00 p.m., the protesters began marching down Franklin Street. Chants filled the air.

As she walked down the street, UNC senior Aja Crayton expressed why she was taking part in the protest instead of studying.

"It's finals time, but this is important to me because I'm feeling uncomfortable by the statue being up, people who look like me are feeling uncomfortable by the statue being up," she said. …

"Who do you protect?" the protesters chanted at the police. "Who do you serve?"

As protesters continued to push against the fence, police officers pulled away a banner that read "total liberation from domination" from the crowd. Hostility between protesters and police cooled off as protesters began walking away from the barricade.
Indeed, as seen at the top of the Chronicle's article, the banner actually read "Against White Supremacy & Patriarchy, Total Liberation from Domination, Against the State & Capitalism."
MORE: 'Silent Sam' vandal's attorney: Statue violates Equal Protection
MORE: UNC professor faces assault charges after Silent Sam rally
IMAGE: notkoo / Shutterstock.com
Like The College Fix on Facebook / Follow us on Twitter