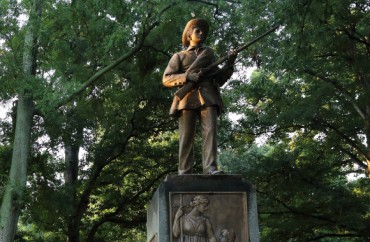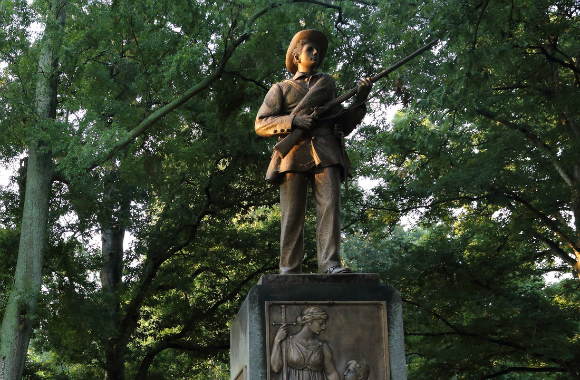 In a rather novel maneuver, the attorney for the University of North Carolina student who doused the "Silent Sam" statue with red paint and blood is defending his client's actions based on the US Constitution's Equal Protection Clause.
In April, Maya Little defaced the statue memorializing Confederate veterans claiming it is a "white supremacist, racist monument." Last week, she was in court dealing with a "defacing a public monument" charge.
Little's lawyer is Scott Holmes, a law professor at North Carolina Central University. According to The Daily Tar Heel, Holmes offered up a defense that Silent Sam's presence violates the 14th Amendment in the same way "it would be unconstitutional for the University to endorse a religion because of the Establishment Clause."
"In our history, people have had to commit crimes in order to raise the issues," Holmes said. "Because the laws and the government's complicity in racism has required them to break the law."
Holmes previously had represented (gratis) protesters at his own university who participated in the toppling of a Confederate statue in Durham, calling the principal defendant "an inspiration" who "awakened the conversation around race."
Holmes called numerous witnesses in an effort to portray Silent Sam as a marker of white supremacy, and to argue that its presence constituted discriminatory harm to black students at the University.

Chapel Hill Mayor Pam Hemminger and Chapel Hill Police Chief Chris Blue testified they hope the statue will be relocated. Student activists andUNC professor Kenneth Janken testified to the dangerous atmosphere the statue's presence creates, citing incidents at McCorkle Place that have resulted in violence. Holmes also filed an unsuccessful subpoena in an attempt to have Chancellor Carol Folt testify.

With each witness, Holmes tried to build a case that Little's actions — dousing the statue and its pedestal in red paint and her blood — were justified under the necessity defense, which asserts that citizens can violate laws that contradict the big-picture wishes of the Constitution. …

Holmes linked Little's case to that of the Friendship Nine, a group of black men who were arrested for staging a sit-in at a segregated lunch counter in South Carolina in 1961.

"It sometimes becomes necessary to break some sort of technical minor law in order to vindicate the broader values of the Constitution," Holmes said.
Holmes added that he was "trying to argue in the Confederate monument case is that this is a similar situation in which the government participates in speech that is discriminatory." He knew he was dealing with a "high threshold" as he had to prove Silent Sam constitutes "discriminatory harm to affected students."
It didn't work. District Court Judge Samantha Cabe ended up finding Little guilty, but did not issue a punishment. Holmes likened the outcome to "a tie in soccer."
Little still faces university Honor Court charges on October 25 and 26.
MORE: UNC trustee: Students protesting Silent Sam 'entitled wimps'
MORE: UNC's 'Silent Sam' statue vandalized yet again
IMAGE: Don McCullough/Flickr.com
Like The College Fix on Facebook / Follow us on Twitter