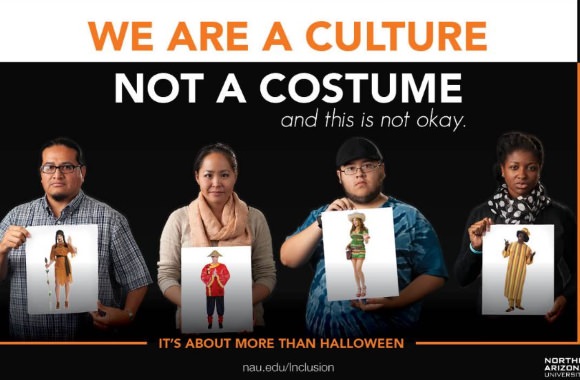 With Halloween just around the corner, campus officials nationwide have warned students about their choice of Halloween costume and the harmful cultural appropriation they say comes with some choices.
From hosting cultural appropriation workshops to sending out school-wide warnings, administrators are working to ensure students don't offend or are offended on the big day.
"While we admire the creativity that goes into many people's costume choices, be aware that cultural appropriation of identities can be offensive," states a recent memo to the University of Oklahoma campus community. "Please select your costumes and depictions in a way that does not demean, dehumanize or diminish anyone's identity or culture."
This past week, Washington State University hosted a cultural appropriation workshop regarding Halloween costumes. Held at the on-campus Student Diversity Center, the "Halloween Costumes & Cultural Appropriation" workshop discussed how Halloween costumes cause cultural appropriation, and why it is considered wrong.
Cal State San Marcos' Office of Inclusive Excellence sent this tweet out recently:
With Halloween coming around the corner! We want to revisit our previous, 🧡'There is more to me than what you see, Beyond The Stereotype: There is History' Campaign.🧡#culturalappropriation #JustDontDoIt pic.twitter.com/WWT8Ya3qK7

— CSUSM Office of Inclusive Excellence (@csusm_oie) October 23, 2018
Baylor University published an article on their official website titled "Race, Culture Expert Shares History and Why Blackface and Other Cultural Appropriation at Halloween Is Inappropriate."
In it, journalism and public relations Professor Mia Moody-Ramirez lists her opinions regarding the harm she believes culturally inappropriate Halloween costumes can do to minorities of those cultures.
"Cultural appropriation is distinct from equal cultural exchange because of the presence of power inequities that are a consequence of oppression," Moody-Ramirez said. "Cultural appropriation is important to consider during Halloween because this is the time of year when we are most likely to dress up in a costume that is representative of another culture."
"If you don't know the meaning of the ethnic attire you are considering for Halloween, you shouldn't wear it. For instance, tribal markings, headdresses and turbans would not be appropriate costume attire because they are tied to a specific ceremony or religious meaning," she added.
Meanwhile, University of St. Thomas has a Halloween costume-specific cultural appropriation event in the works, set to happen Halloween day. The event is called "DAB Trick or Treat — Appropriation vs. Appreciation."
Advertising the incentive of free food for students attending the event, officials write: "Come stop by the DAB office for some treats and also learn about what does Cultural Appropriation and Cultural Appreciation means, especially when it comes to Halloween costumes."
Even some students are getting in on the action. At the University of Massachusetts Amherst, its student magazine published "A guide to being culturally sensitive this Halloween," according to Fox News. The magazine quoted the popular Netflix show "Dear White People," writing that a person is allowed to dress as any president they desire, with the exception of President Obama.
At Temple University, the Temple News student newspaper posted an article regarding students wearing culturally appropriated Halloween costumes. The article enlists the help of several Temple University students who describe the "pain" they feel when they see their cultures being appropriated on campus, such as a non-Mexican student wearing a sombrero.
"Ari Gutierrez-Sanchez, a junior secondary English education major, is of Mexican descent. Gutierrez-Sanchez said it was painful to see a non-Mexican male student wearing a sombrero this month," the newspaper reported.
"He can take off my culture, and I can't," Gutierrez-Sanchez told the Temple News.
MORE: University provides practice costumes to teach students how to dress for Halloween
Like The College Fix on Facebook / Follow us on Twitter