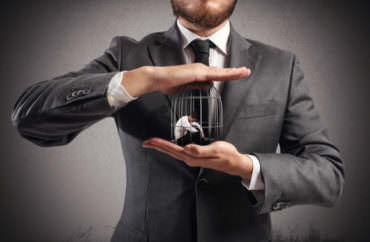 Editor's Note: This is the second in a series of articles reporting on the American Studies Association's annual meeting, an academic conference held Nov. 9-12 in Chicago.
CHICAGO – Believe it or not, Trump voters feel oppressed too, according to one scholar.
If academics want to fully understand why so many Americans voted for Donald Trump, an Indiana University professor says it's time they more fully grasp how feelings of resentment and marginalization influence all Americans and their class consciousness — not just people of color or the LGBT community.
Colin Johnson, a gender studies professor, said at a recent academic conference that reconceptualizing how scholars measure social class can better account for why Americans vote the way they do. Specifically, he called for a new class structure built around one's distance from power rather than being based simply on wealth and privilege.
Such a model, Johnson said, sheds light onto what he called "the American outer class," a group drawn to Trump because he resonated with them and their own experiences.
"They didn't help to put Trump in the White House because they think he belongs there. They helped to put him in the White House precisely because they understand that he will never really belong there, at least in the eyes of people they see as unjustly entitled to pass such judgments," Johnson said at the American Studies Association's annual meeting, recently held in Chicago and dedicated to exploring "pedagogies of dissent."
At a session titled "WTF Rural America? Geography. Culpability. Trump.,"Johnson told his peers they should tinker with the traditional top-to-bottom social class structure that puts the wealthy at the highest point and poor at bottom. He argued the traditional model is poor at predicting voting patterns and doesn't fully tease out the frustration currently felt by many Americans and exhibited in last year's election.
"Specifically, I would suggest we need to stop thinking about class in terms of vertically oriented hierarchy and start thinking of it instead in terms of perceived proximity to or distance from centers of power, be they real or imagined," he said.
Centering social class around one's distance to power, the scholar says, better captures feelings of resentment and underrepresentation — two factors Johnson suggested played a major role in last year's presidential election.
"My point is ultimately that pretty much all Americans today feel marginalized in someway or at least marginal relative to someone or something or someplace else," Johnson said.
Johnson, the author of "Just Queer Folks: Gender and Sexuality in Rural America," argued that voters today are more frequently voting against candidates rather than for a specific politician. He highlighted conversations with voters in his Illinois hometown who opposed Hillary Clinton in last year's presidential election because "she really seems to belong in New York."
And while Trump also hails from New York, the billionaire resonated with the so-called "American outer class" because he has similar characteristics.
"They think he acts like they do," Johnson said. "In short, these members of the American outer class didn't support Trump because they think he's perfect. They supported him because they think he's flawed."
MORE: Professor — Liberals must take partial responsibility for Trump presidency
IMAGE: alphaspirit/Shutterstock
Like The College Fix on Facebook / Follow us on Twitter