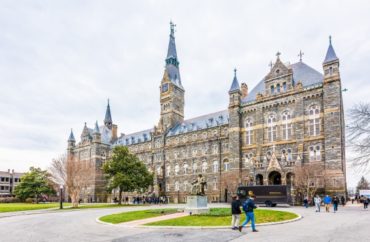 Georgetown offers significant support for its gay community
Georgetown University is America's oldest Catholic university, with a history stretching back well over two centuries. In that capacity it embodies something of an institutional paradox: In spite of its deep Catholic roots, the school features a robust LGBTQ Resource Center which, according to the center itself, "is the first such Center of its kind at a Catholic/Jesuit institution in the country."
Despite the conflicts that exist between Georgetown's Catholic foundation and the modern LGBTQ agenda, Georgetown's LGBTQ Resource Center has actually been endorsed by clergy on the campus.
On the resource center's website, Kevin O'Brien, a Catholic priest and at one time the executive director of campus ministry, states that "Campus Ministry is pleased to collaborate with the LGBTQ Resource Center to learn from and support Georgetown's LGBTQ community."
"In the Jesuit tradition of cura personalis, we are committed to caring for the whole person – mind, body, and spirit…We provide opportunities for members of the University community to reflect theologically on sexuality and other life issues. As students form their consciences and discern important decisions, we accompany them as faithful mentors and teachers," O'Brien writes.
The College Fix reached out to Georgetown's campus ministry asking how it balances Georgetown's Catholic faith with the overtly pro-LGBTQ stances modeled by the center. Neither the campus ministry nor the university's media relations department responded to queries.
The Archdiocese of Washington also did not respond to requests for comment on Georgetown's LGBTQ culture (the archdiocese does not have any jurisdiction over the university but is the dominant Catholic authority in the region). The center itself similarly did not respond to requests for comment. Yet the resource center's website provides plenty of examples of LGBTQ activism.
The center celebrates events such as Pride Month, Coming Out Month, and Gender Liberation Week. The last of these events is a time for students to liberate themselves from the traditional gender binary, and has featured events such as "Studying Each Other, Gender, Ethnography & Transgender Kids."
Yet the goal of the LGBTQ Resource Center goes beyond just hosting months of sexuality-centered events. According to the center's mission statement, its aim is "understanding sexual orientation and gender identity in the context of and as it intersects with race, religion, ethnicity, nationality, ability, socio-economic status, and culture."
The center often promotes and champions numerous politically controversial policies and ideologies. For example, the Center's website is proud to declare that Georgetown students "are able to use bathrooms that correspond to [their] gender identity or expression in all public buildings on campus," and that "residential Living will house all trans, non-binary, and gender non-conforming students based on their gender identity once a student requests this."
The resource center also offers a yearly monthlong celebration titled "OUTober," held every October. That month is marked by events such as "Queer Coffeehouse," "Gender & Queer Expressions in the Performing Arts" and "Queer Sexual Health."
The center also provides a significant amount of speech guidelines that students should use to "model inclusive behaviors." These include "avoiding language that implies or reinforces binary genders."
"Instead of referring to a student as 'he' or 'she' in class, try using 'they' until you know their pronouns," the guidelines state.
Catholic tradition forbids homosexual acts
The Catholic Catechism forbids homosexual activity, calling homosexual acts "intrinsically disordered," though it states that gay men and women "must be accepted with respect, compassion, and sensitivity. Every sign of unjust discrimination in their regard should be avoided."
Pope Francis has offered several opinions on the Catholic Church's relationship to homosexuality and transgenderism. On one hand the Catholic leader has stated: "Life is life, and things should be taken as they come… But each case must be welcomed, accompanied, studied, discerned and integrated. This is what Jesus would do today."
However, the Pope has also been strong in his condemnation of the ideology spread by institutions such as Georgetown's LGBTQ Resource Center.
"It is one thing for a person to have this tendency [transgenderism], this option, and even change sex, but it is another thing to teach it, gender theory, in schools along these lines in order to change mentality. I call this ideological colonization," he said. 
MORE: Georgetown marriage group's donations rerouted to pro-LGBT groups
IMAGE: Anthony Blotkin / Shutterstock.com
Like The College Fix on Facebook / Follow us on Twitter