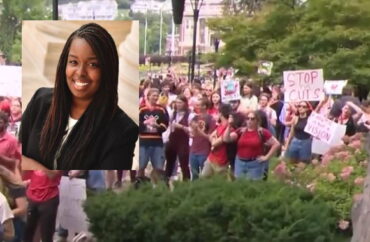 Administrators at WVU also outnumber teaching and instructional staff by a 2 to 1 margin, College Fix analysis finds
West Virginia University's Vice President for Diversity, Equity and Inclusion Meshea Poore makes $234,537 per year plus benefits, a salary that outpaces her fellow employees by significant margins and comes even as the public institution faces a $45 million deficit.
Poore's salary is much higher than the average salary of $97,227 for full-time professors at West Virginia University and also outpaces the average salary of office and administrative support staff, which federally reported data shows is about $43,000 a year.
Poore's salary is "298.0 percent higher than the average pay for co-workers," according to Openpayrolls.com.
Administrators at WVU also currently outnumber teaching and instructional staff by a 2 to 1 margin, according to a College Fix analysis of data the school filed with the federal Integrated Postsecondary Education Data System.
During the 2021-22 school year, which are the most recent data available, the institution employed 74 educators per 1,000 students and while employing 140 administrative and support staffers per 1,000 students.
Poore's salary comprises approximately 36 percent of the salary budget for her 12-person department. Director of Equity Assurance/Title IX Coordinator James Goins makes $117,334 per year. The department is currently smaller than it was in 2019, when it had 15 employees.
Poore presides over a DEI department with total salaries of approximately $642,530, according to 2022 data at govsalaries.com. Two of the staff positions, prevention education specialist and ADA coordinator, did not have available salary information, so The College Fix used the median amount for similar administrative support roles.
West Virginia university is currently considering massive budget cuts due to a $45 million budget deficit. Academic majors on the chopping block include programs in civil engineering, education administration and art history.
WVU media representatives Sean Manning and Shauna Johnson did not respond to two recent requests for comment from The College Fix in the past week about the public university's spending priorities.
A senior fellow with the West Virginia Cardinal Institute said the university should cut DEI.
"DEI offices and officers are expensive and often counterproductive," Adam Kissel told The Fix via email. "Sometimes their work is even discriminatory and unlawful. Public universities like WVU should close their DEI offices before legislators or regulators do this work for them."
Kissel said WVU officials should instead "refocus on student success efforts designed for all students" and that "[r]acial diversity is a poor proxy for the viewpoint diversity that makes colleges flourish."
Kissel also said the university "should look to its core mission" to determine research and teaching priorities.
"Workforce and citizenship preparation and life satisfaction are commonly at the core of a public college's teaching mission," he said. "Social transformation and activism is not."
MORE: UW-Madison spent millions on DEI, didn't improve campus climate
Poore is an attorney who formerly worked in the Office of the Kanawha County Public Defender in Charleston. She also served in the West Virginia House of Delegates from 2009 to 2014. She was hired at WVU in 2018. The university described her as a "longtime activist" in its news release.
Poore did not respond to two requests for comment sent in the past two weeks. The Fix had asked if she would be open to taking a pay cut or freeze if that allowed some staff positions to be saved and how DEI spending should fit into discussions about cutting the university's budget.
The university has already cut "non-faculty staff" positions by approximately 500 between 2015 and 2022, according to an email reviewed by the James Martin Center.
Recent programming put on by the diversity department includes a "Diversity Week," held in September, that included a presentation on LGBTQ rights and an opportunity to play with therapy dogs.
According to a College Fix analysis of data the school filed with the federal Integrated Postsecondary Education Data System, West Virginia University has 2,524 full-time administrators and support staff on its payroll.
In contrast, its reported undergraduate student enrollment came in at 18,020. In other words, there are about 140 full-time administrators per 1,000 undergrads at the public university.
This is a four percent decrease from the 2013-14 school year, when there were 146 administrators per 1,000 students, IPEDS data show.
This contrasts with Stanford University which saw a 22 percent increase in administrators per 1,000 students, as previously reported by The Fix.
MORE: UMich botanical garden employs DEI manager
IMAGE: WVU
Like The College Fix on Facebook / Follow us on Twitter