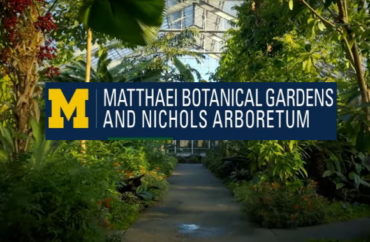 University of Michigan's Matthaei Botanical Gardens & Nichols Arboretum is committed to diversity – but not simply the diversity of the plants and animals that call the facility home.
It also employs a DEI manager and actively works to combat racism within its 700 acres of gardens and natural preserves to make up for its "participation in systemic injustices."
Efforts have included unconscious bias trainings, live-streamed DEI events, food justice and seed rematriation programs, and DEI workshops covering topics like "confronting racism, cross-cultural difference, and bystander intervention," according to university memos from 2020 and 2022.
In September 2021 the Botanical Gardens & Nichols Arboretum hired a full-time DEI manager, Ivana Lopez Espinosa, for close to $60,000 per year, thus adding to the University of Michigan's expansive DEI bureaucracy.
The Matthaei Botanical Gardens & Nichols Arboretum, or MBGNA, boasts extensive grounds, walking trails and a gift shop, as well as a variety of programming for children and adults. It employs about 40 people as well as volunteers.
It recommitted itself to diversity, equity and inclusion by developing a strategic plan in the wake of COVID and George Floyd's death, gardens and arboretum Director Tony Kolenic stated in a letter posted online.
"MBGNA is committed to catalyzing equity and justice, and will continue to reckon with itself and the history of living collections to do so," Kolenic stated. "This strategic plan is our road map for how that commitment is turned into action; how MBGNA will continue to thoroughly examine and combat its participation in systemic injustices, and how we will co-create new ways forward with historically excluded communities through the years ahead."
The efforts toward DEI in the gardens dates back to at least 2016, however, as revealed by the pair of documents from 2020 and 2022. According to the 2022 document, a DEI plan was launched in 2016 to facilitate "efforts for internal learning, reflection, and action," as well as outreach and the development of new relationships and community-based projects.
Some of the DEI goals listed in the 2020 document include increased employee participation in DEI activities, increased staff feelings of psychological safety, and a reduction in complaints regarding bias and other related matters.
These DEI efforts also include several changes in how personnel are recruited, hired, and retained such as attempting to recruit from more diverse communities, deprioritizing graduate degrees when hiring staff, and offering higher wages.
As for the relatively new DEI manager, Lopez Espinosa's online bio page states she likes "tending plants" and lists the "cola del burro (Sedum morganianum)" as her favorite. She holds a master's in education from the University of Michigan with concentrations on diversity and social justice.
She also previously worked as the equity audit co-lead for the Edward Ginsberg Center at the University of Michigan, where she "developed a justice-centered evaluation framework" for how the center furthers "equitable partnerships between communities and the University of Michigan."
Lopez Espinosa also served as a consultant for the Presidents' Alliance for Higher Education and Immigration, advocating for legislation "to increase access to higher education for undocumented, DACA, refugee, and TPS [temporary protected status] students."
The effectiveness of eight years of DEI in the gardens, however, are questionable, as, according to 2017 and 2021 surveys cited in the 2022 document, the MBGNA staff, despite largely "perceiv[ing] the organization to be non-racist and non-homophobic," also, to some degree, "find the [MBGNA] climate to be individualistic and competitive, homogenous, sexist, and ageist."
The College Fix reached out to both Lopez Espinosa and Kolenic this month to ask how the gardens and arboretum are sexist, racist and ageist. The Fix also asked Lopez Espinosa what she has done since taking on her position as DEI manager.
Neither Lopez Espinosa nor Kolenic replied to these requests.
In a 2021 interview, when describing what she saw as her role at the MBGNA, Lopez Espinosa said it "is important that the DEI manager understands community and visitor experiences from the lens of accessibility, knowledge creation, and storytelling."
"As a university department," she added, "it is critical to embed DEI within the infrastructure, such as policies and practices, and culture."
"We are an ecosystem," stated Lopez Espinosa, "and it is important that we recognize the role that everyone has in flourishing an environment that values diversity, equity, inclusion, accessibility, and justice."
As for what she hoped to bring to MBGNA, Lopez Espinosa said, "I am excited to be able to weave DEI into all of our areas, from our internal to external projects. I am looking forward to critically analyzing the organization to improve our accessibility and foster endearing, sustainable relationships with a variety of community organizations and Anishinaabeg communities."
MORE: University of Michigan union demands abortion fund and no cops
Like The College Fix on Facebook / Follow us on Twitter