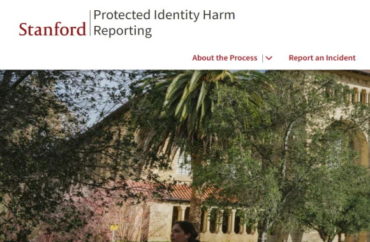 Stanford reins in controversial reporting system after negative press, faculty concerns
Stanford University has adjusted its "Protected Identity Harm" reporting system after widespread criticism that it supported McCarthyism-styled tattle-telling on campus reminiscent of "totalitarian regimes."
Administrators removed the ability to report anonymously, tightened the definition of what counts as an identity harm incident, and added wording to explain the reports are kept separate from academic and discipline records and people named in complaints are not contacted, according to screenshots of the website changes tracked by an academic watchdog.
The changes come after Stanford faculty, concerned about free speech and academic freedom on campus, created an "Ad Hoc Committee on University Speech" to review the reporting system and other First Amendment concerns.
The Foundation for Individual Rights and Expression also piled on with criticisms of the anonymous reporting system, urging Stanford "to ensure it is not investigating protected speech, or suggesting complaints about protected speech may warrant formal administrative intervention."
The Wall Street Journal recently had two major pieces on the reporting system, as did National Review, all of which described the reporting system as Orwellian and akin to East German tactics.
"Anonymous informers have always been a hallmark of totalitarian regimes," Ivan Marinovic, associate professor at the Stanford Graduate School of Business, co-wrote in a Journal op-ed April 6.
"It's predictable that many of these anonymous complaints will be trivial, but the investigating staff will be motivated to take everything seriously, no matter how absurd. They have an incentive to increase their case loads, creating a need for even more bureaucracy, which wastes time and money and interferes with academic work."
All this apparently pressured Stanford brass to walk back the reporting system, originally launched in 2021.
Steve McGuire, a fellow with the American Council of Trustees and Alumni who wrote in National Review in February the reporting system was "Orwellian," recently tweeted a thread detailing the changes to the reporting system based on his before and after screenshots of the website.
"According to the website, it is no longer possible to report anonymously," McGuire tweeted April 13. "Also, Stanford login information is now required to access the Maxient reporting form. The website also redefines a [Protected Identity Harm] incident as one that 'occurs outside academic engagement.' It stresses that a report about something that happened during a class should be reported elsewhere."
"It also stresses that PIH reporting is designed to help the complainant heal and to collect data. 'Offending parties are not contacted,' it says. They also removed some of the restorative processes that would necessarily involve the respondent," he tweeted.
"And they've clarified some things about their record keeping, including that PIH records are kept separate from disciplinary or academic records."
UPDATE: Stanford has made significant changes to its Protected Identity Harm Reporting website, about which I wrote here:https://t.co/T3c9KWmOZY

— Steve McGuire (@sfmcguire79) April 13, 2023
As The College Fix previously reported, the Protected Identity Harm Reporting system encouraged students to report "incidents of bias" in which "a community member experiences harm because of their identity." Students were able to anonymously report "microaggressions to macroaggressions" that occurred either on campus, off campus, or online.
"Examples of PIH incidents could include targeting a student with racist remarks on social media, making sexist jokes at a party, defacing fliers about LGBTQI+ rights, or calling someone an ableist slur," the university's website had stated. The system is similar to bias response teams found on campuses nationwide.
MORE: Meet the software company tracking college students' behavior
IMAGE: Stanford University screenshot
Like The College Fix on Facebook / Follow us on Twitter