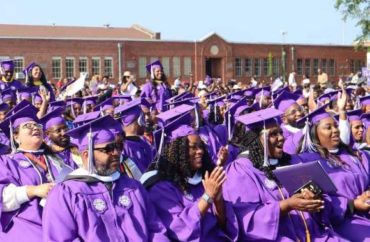 'You do not owe the college a penny,' the president told the grads
The class of 2022 at Wiley College, a historically black college in Texas, learned at their commencement ceremony that an anonymous donor had paid off their entire combined debt balance.
More than 100 students were assembled for the college's ceremony Saturday when President and CEO Herman Felton announced the donation.
"You are debt-free. You do not owe the college a penny. If you have a balance, you had a balance," Felton announced to applause in a video tweeted by the college.
Congratulations 2022 Graduates, YOU ARE DEBT FREE!
Go Forth Inspired, glorious deeds to do. 🥹🙌🏾#wileygrad22 #wileycollege #hbcu #hbcugrad #hbcupride #goforthinspired pic.twitter.com/a0zHUDTFc4

— Wiley College (@WileyCollege) May 7, 2022
In a May 7 press release, the college stated that total debt owed by the graduating class totaled approximately $300,000.
"Our commitment to our students goes beyond their time while they are enrolled," President Felton stated. "We are constantly communicating with donors to assist students in these ways so that they can begin their after-college experience with less debt."
"As Wiley College closes the academic semester and prepares for its Sesquicentennial Celebrations beginning in July, this is a great way to end the semester and start the celebration of 150 years of the College's contributions to the world," Felton stated.
The college, founded in 1873, is a four-year liberal arts institution affiliated with the United Methodist Church, according to its website.
Though a small college, its history has made it on the big screen.
"The 2007 movie 'The Great Debaters' starring Denzel Washington was inspired by debate in 1935 in which Wiley prevailed over the University of Southern California's nationally-known, powerhouse team at a time when the nation was heavily segregated," the AP reported.
MORE: Best college movies for College Fixers
Image: Wiley College/Twitter
Like The College Fix on Facebook / Follow us on Twitter