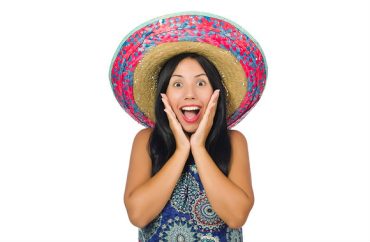 An anonymous University of Virginia group comprised of Hispanic and "Latinx" students has circulated an open letter to the campus community calling for stronger measures to be taken against cultural appropriation.
La Sociedad de La Gente ("Society of The People") says that recent examples of cultural appropriation have "further stigmatized marginalized groups" and have demonstrated "our ongoing struggle to address our troublesome past of racism and cultural appropriation."
According to The Cavalier Daily, the group was miffed that there was no official university response to the latest incidents. UVA President Jim Ryan told The Daily this week that
Sometimes the best thing to do is help students resolve the conflict or respond to the issue in one way or another. It doesn't mean that the administration should always step back and let students take care of it, but I do think that there's wisdom in working with students. But, I mean, I will tell you these are sometimes hard judgement calls.
In its letter, La Sociedad wants to the Office for Fraternity and Sorority Life to "directly condemn" the recent instances of cultural appropriation, add more education on the topic, and incorporate a member of the Multicultural Greek Council in FSL business.
FSL Dean Hal Turner said in an email statement to The Cavalier Daily that FSL has been working with the involved chapters to encourage them to incorporate cultural awareness education into chapter events and that chapters have thus far been responsive.

"In collaboration with these partners, Fraternity & Sorority Life staff strongly encouraged each organization to pursue cultural sensitivity training to better understand the negative impact these types of actions can have on our community," Turner said. "Each organization has been supportive of these suggestions and has either already completed training or is in the process of coordinating future trainings."

Turner also said that FSL has been working with minority student groups on Grounds to establish more direct and open communication lines between the two sides.

"In the spirit of student self-governance and advocating for an inclusive community, Fraternity & Sorority Life Staff have engaged in conversations with the student leadership of the Native American Student Union (NASU) and Latinx Student Alliance (LSA) to hear concerns and discuss potential future initiatives on cultural sensitivity education for the Greek community moving forward," Turner said.
La Sociedad also was cheesed — rightly — that a Latina sorority, Sigma Lambda Upsilon, was punished for "hazing" because it mandated that its members study at least 25 hours per week.
MORE: UVA frat, sorority in hot water for alleged 'cultural appropriation'
MORE: UVA student leaders want more 'safe spaces' for minority students
IMAGE: Elnur / Shutterstock.com
Like The College Fix on Facebook / Follow us on Twitter