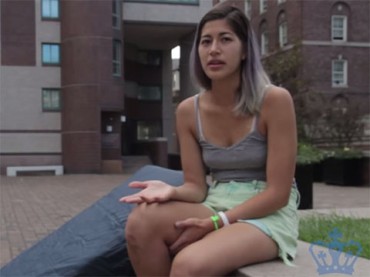 Mattress-carrying performance artist and alleged rape victim Emma Sulkowicz is complaining to a friendly media source, Jezebel, about her portrayal in Cathy Young's Daily Beast story about her alleged rapist's extensive Facebook conversations with Sulkowicz after the incident.
What's interesting about Jezebel's story, though, is another person has come forward to accuse Nungesser of assault: a "queer and black" male:
Adam, a current Columbia senior, tells Jezebel that he was close friends with Paul during his freshman year in 2011. One fall night, in the midst of an emotional conversation in Paul's dorm room, Adam says Paul pushed him onto his bed and sexually assaulted him.

Adam, who identifies as "queer and black," didn't tell anybody about the incident until months later. His silence, he says, was due to issues that face many male survivors of sexual assault—denial, fear that nobody would believe him, fear that even defining himself as a survivor would somehow damage others.
The story says Adam only filed a Title IX complaint against Nungesser three years after the alleged incident (the complaint is pending), though Adam filed a complaint against Nungesser "with a student organization to which both men belonged" just months after the incident. Unlike in Sulkowicz's case, there's no description of what specifically Nungesser allegedly did to Adam.
Jezebel fumes that journalists are bothering to interview both sides of the story, once more trotting out the "rape denialist" slur against Young and saying that students who make rape accusations aren't "public figures; they're regular people, victims further victimized by media hounding."
Like a certain mattress-carrying performance artist.
Read the story, and if you want more amusing invective leveled at Cathy Young, check Feministe's post.
Young has already responded to some of the earlier hubbub about her Daily Beast piece.
Like The College Fix on Facebook / Follow us on Twitter
IMAGE: YouTube screenshot
Like The College Fix on Facebook / Follow us on Twitter