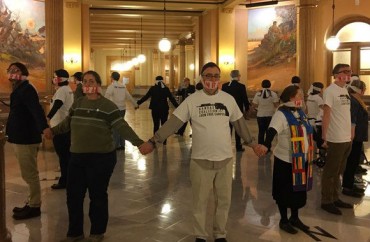 Choice: Either provide security or let people protect themselves
A Kansas law requiring all government buildings to allow guns is giving publicly funded colleges another 15 months to comply.
But anti-gun protesters are hoping they can reverse so-called campus carry rules well before that deadline, using the popular tactic of claiming their voices have been silenced by lobbyists.
If they were hoping for the sort of physical confrontation that Wisconsin labor activists provoked in opposition to Gov. Scott Walker's anti-union agenda in 2011, they were disappointed at a protest Thursday.
'Immediately security yelled at us'
Protesters representing the Kansas Coalition for a Gun Free Campus arrived at the Capitol building in Topeka to silently oppose the law, wearing mouth gags with "NRA" written on them.
Protester Davis Hammet told The College Fix that the Legislature is ignoring their message in favor of the gun lobby.
"After our demonstration in the Rotunda, some of us went to sit in on the House session," another protester who declined to provide a name told The Fix in direct messages on Twitter. "We stood in silence in the observation area with our mouth gags on and were asked to leave."
Students, professors, & citizens being kicked out of #KSleg for asking for gun free campuses. #Corruption runs deep pic.twitter.com/pe1mBTAgaB

— Loud Light (@loud_light) March 24, 2016
Hammet said it went beyond a polite request. "We stood up in silence and immediately security yelled at us," leading the protesters to leave so as not to create a disturbance, he told The Fix in Twitter direct messages.
House representative Stephanie Clayton, an Overland Park Republican, tweeted her dismay at their removal.
I think protesters for students for a gun-free campus just got escorted out of the gallery. I'm not offended by them in the least. #ksleg

— Stephanie Clayton (@SSCJoCoKs) March 24, 2016
Kansas's six state universities and dozens of publicly funded community colleges and technical schools are affected by the law, according to KCUR.
But they appear to be the last public institution that has to comply: In 2012 the Legislature approved concealed-carry permit holders to carry their weapons in almost all public buildings.
In 2015 the Legislature passed another measure allowing permitless concealed carry, making it the sixth state to allow "constitutional carry."
The temporary exemption given to public educational institutions ends in July 2017.
Today @ #ksleg pic.twitter.com/1GbjlW8lPj

— Robin Clements (@pubsolve) March 24, 2016
As in other states where the issue has come up, campus carry is unpopular with faculty.
"Do you want to be teaching a class, failing a student and the student is maybe carrying a gun," Charles Merrifield, a retired professor at Newman University, told The Wichita Eagle at Thursday's protest.
A survey by the Docking Institute of Public Affairs at Fort Hays State University found widespread disapproval of the law among faculty and staff, according to FHSU News. Seventy percent of those surveyed said they preferred not allowing handguns inside university buildings.
A TSA in every building
The Legislature offered a way out for college administrators if they didn't want the Second Amendment in their buildings: guard every door to keep all weapons out.
Under this provision, guns could be banned only if a building had "adequate security measures" to stop all weapons from entering.
With more than 800 buildings to protect, state universities won't be able to add security to all of them, Board of Regents Chairman Kenny Wilk told the Lawrence Journal-World in May.
A 2013 report by the University of Kansas said it would cost $37 million to secure all 237 buildings at its Lawrence campus, a price tag that university officials said it couldn't afford, according to The University Daily Kansan.
The University of Kansas could screen for weapons in certain buildings, such as dorms and stadiums. The University of Kansas Medical Center in Kansas City, Kan., is considering a more limited approach: adding security and merely banning guns in its library, according to KCUR.
The status quo already allows criminals to bring guns into public buildings unchecked, State Sen. Forrest Knox, one of the Legislature's leading gun advocates, said during debate.
"If you don't provide security, then you shouldn't deny the public's right to provide for their own," he said. "That's the logic of the bill, OK, and nothing has changed in that, whether it's a hospital or not."
Like The College Fix on Facebook / Follow us on Twitter
IMAGE: Robin Clements/Twitter