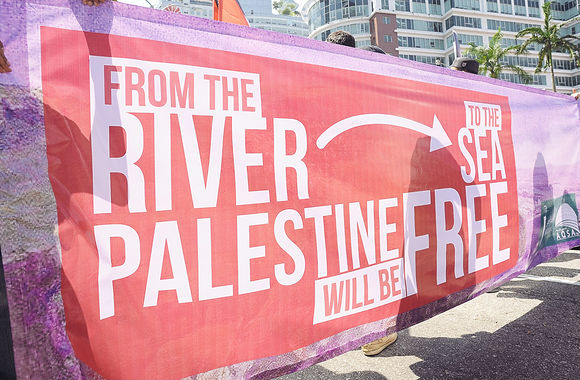 A crowd of pro-Palestinian protesters temporarily halted a Thursday appearance by members of the Israeli Defense Forces at the University of California-Irvine.
With shouts of "IDF, waddya say, how many kids have you killed today?", "From the river to the sea, Palestine will be free!" and "All the walls have got to go, from Palestine to Mexico!" the demonstrators were allowed to continue for several minutes until security began to escort them out.
Signs saying "IDF NOT WELCOME" also were held up by several in attendance.
According to Campus Reform, IDF members held up signs saying "Do you want to talk or do you want to shout?" in response.
Gary Fouse reports the demonstrators likely are not UCI students. The campus Students for Justice in Palestine is currently on probation for previous event disruptions.
The College Republicans say they invited the IDF soldiers to provide an alternative perspective to the "Anti-Zionist Week" that takes place annually at UC Irvine, which features a wall officially dubbed the "Anti-Zionist Wall," but which has been nicknamed the "Wall of Hate" by some students.

The wall, which is erected by Students for Justice in Palestine along with the Muslim Student Union, details the alleged "crimes of Israel" against Palestine, but cites no sources. …

Administrators who were present at the event told Campus Reform it is unlikely that UCI will take disciplinary action against the protesters because no arrests were made and the protesters did not identify themselves as students or members of a recognized student group.

UCI provided the following statement […] confirming that it does not plan to investigate the protesters:

"We do not plan to investigate, based on the information we have at this time. To our knowledge, the protestors were not UCI students, so there will not be a student conduct review. They also cooperated with our police officers and complied with their request to leave the meeting."
Fouse notes that back in 2010 when the Muslim Student Association disrupted a talk by former Israeli ambassador to the US Michael Oren, police "did an extensive investigation that showed that the disruption was organized and planned — and covered up as to the planning."
MORE: Anti-Israel student convention numbers plummet
MORE: UMich student gov. approves anti-Israel resolution on 11th try
IMAGE: Khairul Effendi/Shutterstock
Like The College Fix on Facebook / Follow us on Twitter