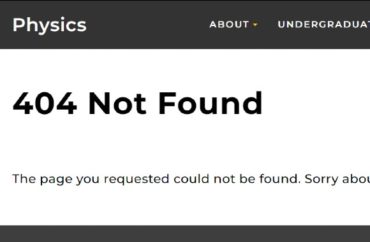 DeSantis team praises decision, but says its not behind the removal
"Anti-racism statements" on several University of Central Florida web pages are no longer visible as a result of a decision by school officials.
Governor Ron DeSantis' team told The College Fix that neither he nor the Stop WOKE Act are the reason for the removal.
Links to "anti-racism statements" put up by the physics, anthropology and philosophy departments are no longer visible, as first reported by the Orlando Sentinel.
The links were still not up as of August 1, when checked by The Fix. The English department, on its own, removed an "anti-racism" statement and claimed it "violates Florida law" without naming a specific statute. The note was removed but the statement is no longer on the website.
The Washington Post reported on July 14 that "some faculty members" worried that the university removed the links to comply with the Stop WOKE Act.
The Fix emailed Shelley Park, a philosophy professor at UCF mentioned in the Post article, and asked her if she had any proof that the new law is behind the removal. She did not respond to a Monday morning email.
The expansive education law prohibits teachers and professors from requiring students to affirm that one "race, color, national origin or sex are morally superior" to another.
It also forbids teaching students that any racial or ethnic group or sex is "inherently racist, sexist, or oppressive, whether consciously or unconsciously."
MORE: 'Baseless conspiracy': DeSantis accused of trading appointments for donations
It's considered to be a prohibition on critical race theory, and related concepts such as white privilege and "antiracism."
University administrators removed the statements "of their own accord," according to DeSantis' Press Secretary Christina Pushaw.
"It's good that universities are re-considering the positions they are adopting, especially if those positions are discriminatory," she stated in her email to The College Fix. "Ideological concepts like 'white privilege' and 'Latinx' are perceived as discriminatory because they stereotype individuals by race and ethnicity."
"The Stop WOKE Act provides a private right of action to students, staff, or other members of the university community who believe that they have experienced CRT-inspired discrimination," she wrote. "The legislation does not task the governor's office with investigating possible non-compliance nor bringing legal actions."
The university also denied that the new law prompted the removal of the statements.
"The university recently removed some departmental statements that could be seen as potentially inconsistent with our commitment to creating a welcoming environment," Chad Binette, a spokesman for UCF, told the Post.
The university wants an environment "where faculty objectively engage students in robust, scholarly discussions that expand their knowledge and empower them to freely express their views and form their own perspectives."
"UCF is committed to building a culture that values respect, civil discourse, and creating a sense of belonging," Binette stated further to the Post. "In an effort to more clearly communicate that commitment, we will be working with departments to ensure statements better align with our university values."
Neither he nor spokeswoman Heather Lovett responded to multiple emailed requests for comment sent in the past two weeks that asked about why the statements were removed.
MORE: CRT opposition is 'battle for national survival,' legal scholar writes
IMAGE: University of Central Florida
Like The College Fix on Facebook / Follow us on Twitter