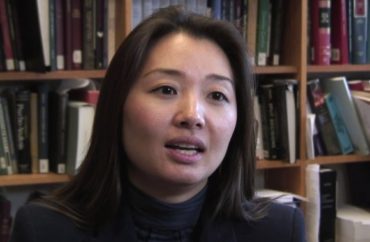 'It is lawless,' she says
One of the most important Title IX due process cases to reach a federal appeals court has been discredited before it even started.
Harvard law professor Jeannie Suk Gersen, an influential critic of campus sexual misconduct proceedings and New Yorker columnist, has been banned from representing her Boston College client at oral argument next week.
Why? "[B]ecause it would create a recusal" of a judge.
And that is much more inconvenient for the judge than for the student, who has already paid his lawyer to represent him in court, and for the lawyer who has already extensively prepared for this very appearance, as stated sarcastically by a criminal defense lawyer.
The bizarre order came down last week courtesy of Judge David Barron, a former colleague of Gersen's at Harvard Law: "The remaining briefing deadlines remain unchanged." It offered no explanation for why Gersen's appearance would create a recusal on the three-judge panel.
As noted by Brooklyn College Prof. KC Johnson, who chronicles Title IX litigation, the panel hadn't even been appointed when Barron issued the order. And he wasn't on the panel when it was announced a few days later, raising the question of who exactly would have to recuse. (It's Barron's only absence from a hearing panel that day.)
The dubious rationale set off a wave of speculation among observers on Twitter. The South Texas College of Law's Josh Blackman, a rising star among conservative legal scholars, asked his followers why a lawyer would have to recuse and not a judge.
Some thought Barron wasn't the feared recusal, which may instead be Judge Michael Boudin, who is married to a current Harvard law professor.
Gersen herself (above) shot this down, saying the judge "has sat on cases where HLS faculty argued." But the order, whatever the reason, clearly angered her. Asked if the 1st Circuit had any grounds to deny her appearance at oral argument to prevent a judge's recusal, she responded "It is lawless."
MORE: Jury awards six figures to accused student for Boston College kangaroo court
It is lawless.

— Jeannie Suk Gersen (@JeannieSuk) October 30, 2019
Contrary to law and precedent, 'for the convenience of the judge'
The legal team for "John Doe," led by due process superlawyer Andrew Miltenberg, filed a motion for reconsideration Monday explaining Gersen's importance to the team.
Because of "personal tragedy" and related religious obligations for Doe's original lawyer in the trial, and his other lawyer's pending delivery of her child, Gersen was "retained specifically to take over writing the response brief" and arguing in court next week.
She has "established expertise on the legal issues involved," the brief understates. (Gersen and her husband Jacob, a fellow Harvard law professor, wrote a law review article called "The Sex Bureaucracy" that influenced a federal judge's ruling against Brandeis University before it was even published.)
Gersen did everything right under trying circumstances to get properly admitted to the 1st Circuit, while the appeals court has given no credible explanation for blocking Gersen other than "for the convenience of the judge," and without any support from the federal recusal statute.
There was no way Doe could have chosen his lawyer in order to force a recusal of a judge he didn't want to face, the brief notes, since it didn't even know at the time who would fill the panel. "[C]ounsel can only surmise" that the avoided recusal was for Barron (below), who still has an appointment to teach a course at Harvard Law.
This is no reason for recusal:
Multiple sitting judges regularly teach courses at Harvard Law School, with ongoing and renewed appointments as visiting professors or lecturers, without creating issues of recusal when the school's faculty members appear in their courts. This includes judges such as the school's former Dean, Justice Elena Kagan on the Supreme Court, and several judges on the Court of Appeals for the D.C. Circuit, and judges on other federal and state courts.
Doe's team can find no previous case where a judge blocked a party's chosen attorney to prevent his own recusal, and the few rejections in the record "do not remotely resemble this one." The brief delicately reminds the 1st Circuit how far outside of precedent it is on the matter of parties getting to choose who represents them in court.
If it's indeed Barron who sought to bar Gersen's appearance, he has already called his impartiality into question by sitting in judgment on her motion to appear in court next week, the brief notes. He should also not consider this motion for reconsideration, in that case, because of his own concerns about looking partial.
The court was unmoved by the motion, rejecting it with no rationale. It belatedly amended its rejection to note that one judge dissented from the decision.
MORE: Judge may have violated 1st Circuit orders as trial begins
'What do you think they were doing before they became judges?'
Criminal defense lawyer Scott Greenfield wrote a scathing blog post about Barron's order and the subsequent rejection of Doe's motion for reconsideration.
"There is little doubt" that Gersen "has the chops," he began:
Not only is she a renowned scholar, but she's written extensively and boldly about the failures of Title IX due process. And the case is before the First Circuit Court of Appeals, Boston's federal appellate court, where she's right at home.
It's irrelevant that Doe's team, including Miltenberg, is excellent without Gersen. But the "eleventh hour" order by Barron denies Doe his fundamental right to choose who will represent him, Greenfield wrote.
"[T]here is neither a suggestion, nor a possibility," that Doe might be "gaming the system" by choosing a lawyer who would force the recusal of a judge thought to be "antagonistic to his cause."
It's particularly ridiculous to force parties to navigate the inevitably incestuous social and professional networks of lawyers and judges when choosing counsel, he writes:
What do you think they were doing before they became judges? We became friends or maybe enemies. We went to the same parties. We talked. We argued. We may have even shared secrets from time to time. But we're also lawyers and capable of rising above personal feelings, good or bad, because we understand that our duty, whether to the law or client, comes first.
And now that it's settled that Barron won't be on the panel, Greenfield wrote before Doe's motion was rejected, the judge's "bizarre and unexplained denial … should be withdrawn and granted, with perhaps a few words of apology for any suggestion that the denial reflected any suggestion of improper motive" by Gersen's appearance.
That's still not enough to cure the pointless harm Barron has done to Doe, the lawyer continues:
It takes time to prepare for oral argument, and this order no doubt wreaked havoc with Doe's legal team to deal with the sudden and unanticipated refusal to allow Gerson [sic] to argue the case. …

Judges, particularly those who have gotten a paycheck for the entirety of their legal career, often fail to consider that a client has to pay for their inadvertent decisions. … With Gerson [sic] tossed from the case, someone else had to scramble to prepare for oral argument in the case. And yet again, Doe paid for it. There is an actual out-of-pocket cost to such decisions, even if judges don't consider such banalities to be their problem.
In the past few years, the federal courts (joined in particular by California state courts) have been a bright spot in the fight for due process in campus sexual misconduct proceedings.
It's incredibly frustrating to see the 1st Circuit getting seduced by the laziness and arrogance of Title IX tribunals and moving in the direction of a kangaroo court itself.
MORE: 1st Circuit slaps down Boston College
MORE: Judge blocks BC student suspension, says he's likely to win
IMAGE: Miss Hall's School/YouTube
Like The College Fix on Facebook / Follow us on Twitter