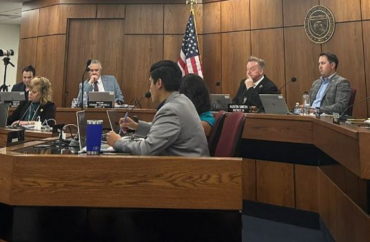 ASU must produce written investigation into the matter, per lawmakers' request 
A meeting Tuesday by the the Arizona Legislature's newly formed Ad Hoc Committee on Freedom of Expression at Arizona's Public Universities allowed a lot of Arizona State University's dirty laundry to be aired before both Republican and Democratic state lawmakers.
Specifically, details and accusations emerged regarding the brouhaha over the a "Health, Wealth & Happiness" panel hosted in February by the T.W. Lewis Center for Personal Development, which is housed in Barrett, The Honors College, at ASU. The event featured two well known conservatives — Charlie Kirk and Dennis Prager — prompting massive protests by professors.
A cadre of Arizona State University professors expressed outrage, calling Kirk and Prager "purveyors of hate" and urging campus leaders to disavow the event. It was signed by 35 of the 46 faculty of the honors college.
The uproar prompted to center's benefactor, Tom Lewis, to pull his funding, which led to the dismissal of its Executive Director Ann Atkinson despite her securing pledges for new funding sources.
On Tuesday, Atkinson testified that Barrett's first-year dean, Tara Williams, "spurned Atkinson's 'diversified donor funding' plan based on verbal commitments she secured from several would-be benefactors … Williams killed the center as it was becoming a 'global brand' and let the 'faculty mob assume control of a jewel at ASU' that had run 150 'well attended' events under Atkinson's leadership," Just the News reported.
Atkinson also "claimed lawmakers would find 'overwhelming evidence' of faculty misconduct around the Feb. 8 event if a real investigation were conducted, including use of university email addresses to harass her," the outlet reported, adding Atkinson also testified that ASU deans ordered the removal of marketing materials regarding the event and at one point even asked her how the invited speakers were different from the Ku Klux Klan.
With ASU's @TPUSA chapter watching members of the AZ state legislature duke it out over the ASU Free Speech violations that have been occurring that affect conservative voices on campus.

So thankful for freedom fighters like @Ann_Atkinson_AZ, @charliekirk11, and @DennisPrager! pic.twitter.com/ZtMNP78ZHq

— Kenna Thordarson🇺🇸 (@KennaThordarson) July 18, 2023
Anderson testified not as a representative of the university but as a free speech expert and concerned citizen. He said on Twitter prior to the hearing that "I have been speaking out about how my college at ASU has employee training classes teaching radical gender ideology and has tried to change our bylaws to include that our syllabi are evaluated by antiracist and decolonizing philosophies."
"The ASU honors professors, who rather than use free speech for rational discussion resorted to name calling, were also invited to give their side and they declined."
After the hearing, Anderson tweeted it went "great."
"Evidence was given of harassment, intimidation, and the chilling effect for conservatives, Jews, and Christians at ASU. Now ASU must report back on how they will uphold their standards and take action against those who behave this way using ASU computers and classes," he said.
But "Democratic lawmakers on the committee were unconcerned by what they say were professors exercising their own free speech rights through a letter and a small protest," AZ Capitol Times reported. In response, "Republican lawmakers said that even though the event went forward, students were intimidated by professors into not attending it [… and] that the faculty members holding signs outside the event had to be intimidating to students."
ASU officials have maintained that the February event took place despite the protests and was highly successful, and point out "the speaker series and classes created by the center have continued at ASU since its closure," AZ Central reported.
But Republican Sen. Anthony Kern requested "ASU produce a written investigation into the matter and a list of proposed actions within 60 days. The Senate Judiciary Committee, he said, will act based on 'the thoroughness of that report,'" the outlet reported.
Lewis, in his statement on why he pulled his funding, said "After seeing this level of left-wing hostility and activism, I no longer had any confidence in Barrett to adhere to the terms of our gift, and made the decision to terminate our agreement."
MORE: Arizona legislature forms committee to probe free speech concerns at ASU
IMAGE: Twitter screenshot
Like The College Fix on Facebook / Follow us on Twitter