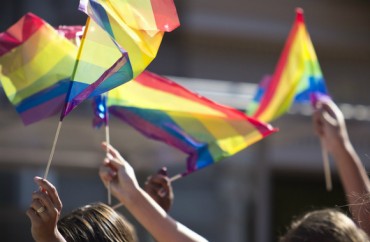 Once again, a piece of art which had nothing to do with what everyone thought it did has created campus furor.
At Austin Peay State University in Tennessee, an art project featuring rainbow-colored yarn tied up as nooses – to signify the suicides of lesbian and gay individuals – led to campus police jumping into action and the university president rushing to apologize for the "impact" the yarn "had on [the] campus community."
"This is a lesson for everyone about sensitivity and respect for all people and how inclusive and understanding we need to be as a campus community," President Alisa White said.
RELATED: Students offended by anti-racist statue got coursework extensions at U. of Iowa
"While we support the freedom of expression on our campus, we also have to keep in mind that there are symbols that have very specific and negative meanings to everyone, especially if context is not provided. Therefore the artwork was inappropriate and had to be removed for the safety of our campus."
@Corey_2Gunnz you were quoted in an article by @washingtonpost https://t.co/tdpbNiMaCn

— Recite News (@ReciteNews) April 19, 2016
Officials said campus police received several complaints at around 5 p.m. Monday about nooses near the Trahern fine arts building.

Officers took the nooses down "out of concern of hate symbolism and its potential impact to the campus," according to the university.

White, the university president, had called the incident "deeply disturbing" and "hurtful," arguing that regardless of how it was intended, it did not belong at Austin Peay.
RELATED: 'Noose' delusion rocks on at the University of Delaware
"I am saddened," she said in a statement Monday night, "and I am sorry for the hurt and offense this has caused and want our students, faculty, and staff to know that it will not be tolerated."

"Definitely racist and whoever thought that this is OK. It is not," one Facebook user wrote. "As a black student attending APSU, I am deeply sadden (sic) by that. They know better then (sic) to leave ropes hanging from a tree."

Another Facebook user, however, argued that "this is what art is about."

"As an actual lesbian," she wrote, "I'm going to say this: If the piece truly was about suicides in LGBT community, than (sic) it was a spectacular piece. It needs to have attention, not just small articles here and there. Suicides in the LGBT community is an epidemic.
There's been no report as yet indicating if those who criticized the art were called "homophobes."
In a similar episode earlier this school year, hanging paper lanterns were misidentified as nooses at the University of Delaware, and a paroxysm of self-righteous indignation followed.
The Post addresses several other campus "noose incidents," including the one at Duke from a year ago. What it doesn't mention is the shadiness of that whole affair, like why the perpetrator was never identified.
RELATED: Duke uses 'noose' incident to educate about lynching despite being mum on culprit
RELATED: Hasty outrage: U. of Delaware, media go nuts over 'nooses' … turns out they're parts of leftover decorations
Like The College Fix on Facebook / Follow us on Twitter
IMAGE: thisisbossi/Flickr