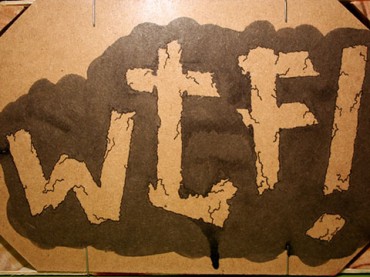 The "Dolphin Rape Cave" at the School of Visual Arts in New York isn't the only art display drawing protests for creating an unsafe environment on campus. The University of Oregon has nixed an art group that uses nude models.
The Daily Emerald has promised a story about the kerfuffle, but for now, check out this protest flier on the school's Great Blue Heron sculpture:
I love working @DailyEmerald. @edercampuzano #detailstocome pic.twitter.com/w25BNSkRJE

— Scott Greenstone (@smgreenstone) September 30, 2014
In case the text is too small for your peepers, here's what it says:
Why is the Great Blue Heron covering its genitals with a fig leaf??

Because the University of Oregon's Art Department has decided to end a figure drawing group over their concerns that a group of artists drawing from a nude model is unsafe, or that the artists may have "wrong thoughts" about the models. This group has met on campus for decades without a single incident, and is firmly rooted in centuries of artistic and academic tradition.

The Heron, a member of the UO community, simply wanted to comply with this new policy, and requested a fig leaf to cover its potentially offensive genitals.

It may seem silly, but there's nothing trivial about censorship (attempting to prevent a thought someone might have). Please let Arts Dean Brook Muller know that the University should be encouraging thought and dialog, not stifling it: [email protected]
The university's hometown Eugene Register-Guard already has the story:
The School of Architecture and Allied Arts' art department has taken a lot of heat since deciding last week to cancel the free three-hour sessions that were held on Saturdays and open to the public. The department cited concerns about safety for the nude models, and a lack of funding to keep the sessions going. The final one was held this past Saturday.
The school is now realizing that nude people don't like being told to cover up – and they accuse the school of promoting rape culture (!):
Local artist Heather Halpern's response?

She took one of the models from the Saturday drawing sessions, Lindsey Belleau, and posed her naked in front of Autzen Stadium [where the Ducks football team plays]. …

"As an artist, I am offended by the suggestion that participants 'might have the wrong thoughts' and that the model 'might be an exhibitionist,"' Halpern wrote in her "open letter" to the UO that she posted on her blog. "Such assertions demonstrate ignorance and intolerance of the artistic process.

"First of all, these are outrageous, unfounded claims," she wrote. "Secondly, they smack of rape-culture sentiment, as they echo the assertion that women ask to be raped when they expose skin."
Read the full Register-Guard story here. Artist Halpern is also collecting responses to the nude crackdown on her Facebook page.
Like The College Fix on Facebook / Follow us on Twitter
IMAGES: Pisto Casero/Flickr, Jud Turner/Facebook
Like The College Fix on Facebook / Follow us on Twitter