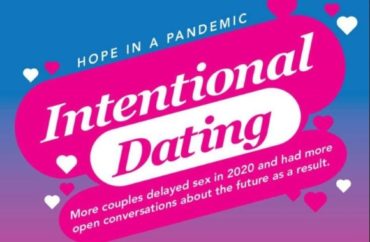 This Valentine's Day wraps up nearly a year of widespread changes to the dating scene, particularly on college campuses.
As many have gone partially or completely virtual, students say they have had fewer opportunities to meet new people.
"Because unofficial social gatherings were limited to twenty people for most of the [fall] semester, and a mere ten during the final two weeks, friend groups were forced to isolate, unable to spend time with other friend groups and meet new people," Zef Crnkovich, a junior at the University of Notre Dame, said via email. "It also makes it harder for new couples to merge their friend groups."
While Crnkovich has found that restrictions have not necessarily prevented people from entering relationships, he said it has made going on dates more difficult: "Walks are about the only thing left to do," he said, "and it's 20 degrees right now."
After a semester of fully remote learning, Peter Spence, a junior at the Catholic University of America, also found that the pandemic has hurt campus dating.
"Single students are definitely going on dates less frequently than they were before," he said via email. "I think overall, due to pretty strict restrictions here, students are hanging out less, especially in social atmospheres."
Despite these circumstances, this Valentine's Day, one organization is trying to send a more optimistic message.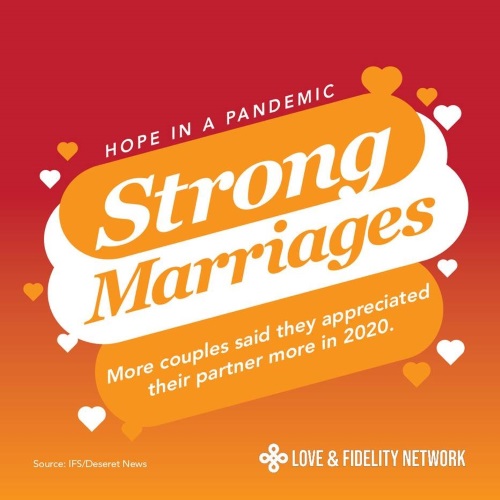 "Intentional dating: More couples delayed sex in 2020 and had more open conversations about the future as a result," reads one post from this year's Valentine's Day campaign from the Love and Fidelity Network, an intercollegiate organization that promotes dating and abstinence until marriage.
In light of the commercial holiday that brings questions of romance and relationships to the fore, the annual initiative was launched in 2013 to convey "alternate messaging when it [comes] to issues of love, sex, and romance," said Brittany Basile, Love and Fidelity Network's director of outreach and communications, in a phone interview.
Past campaigns have contrasted trends, such as delaying dating, hooking up and ghosting, with encouragement to "Take a chance" on a date and to "Be somebody to somebody for the long run."
But this year, the network wanted to address the latest obstacle to dating: a worldwide pandemic.
"Has this crisis given us an opportunity to hope?" said executive director Alain Oliver. "If so, where are those potential silver linings?"
After reviewing research on relationships from the past year, the group highlighted some positive findings in a series of images. Unlike past years, which involved distributing posters on college campuses, this year's campaign will take place entirely on social media.
Our annual Valentine's Day campaign is finally here! Gather up some hope during the pandemic and see how families are faring in spite of it: https://t.co/aiGReDl4WI pic.twitter.com/Yviq3fH3qd

— Love and Fidelity (@LoveandFidelity) February 11, 2021
LFN's leaders agreed that one big obstacle the pandemic has brought to the dating culture is the loneliness and frustration born from being unable to meet in person.
"A lot of people are isolated, and so that means that they have a smaller pool of people that they would potentially meet," said program director Julia Evanko.
Where's the silver lining? According to Evanko, that limited pool of potential companions has also acted as a catalyst for commitment.
"Intentional dating is on the rise because no one wants to waste their time," she said, referring to her research for this year's campaign. "They can't waste their time going on so many dates and flipping through so many profiles. They want to spend time getting to know somebody, because it's just a difficult time for a lot of people."
Crnkovich, co-president of the Love and Fidelity Network's Notre Dame affiliate, noted that while conversations about the future can sometimes intimidate students and discourage them from committing to relationships, the idea of intentional dating reinforces "long-term goals of marriage and family," a healthy outlook to bring to a relationship.
"I think, overall, that this stat is meaningful in promoting a culture of selfless respect for others, and would be good for students to hear," he said.
Spence, president of Love and Fidelity Network's affiliate group at Catholic University, also said the findings about intentional dating are encouraging.
"Covid has probably been a jolt to a lot of students who were in the college bubble and forgot about the real world that they will have to navigate soon," he said.
"Real, committed relationships and marriage are a big part of that real world, so I think that if Covid has brought attention to them, then that is something we can be grateful for."
While it remains to be seen what COVID's long-term impact on relationships will be, Love and Fidelity Network leaders said they remain confident that individuals and couples can overcome obstacles.
"We as humans are designed for relationships," said Oliver, "and that hunger will always surface and drive conversations and considerations, and for that reason we can be hopeful."
Spence added that the challenges now could lead to good dating trends later.
"I do think that the pandemic has left a lot of people yearning for the kind of love and companionship that only a deep dating relationship brings. So I think that once Covid ends, we will see a sharp uptick in dating, and hopefully an uptick in the number of committed, fruitful relationships that we want," he said.
College Fix alumnus Sophia (Buono) Martinson graduated from the University of Notre Dame in 2018. She is a freelance culture writer whose work has appeared in a variety of publications, including Verily, The New Criterion, The Washington Examiner, and MercatorNet. Read more of her work here.
MORE: Beyond hookups: Sexually conservative students teach their peers how to date
Like The College Fix on Facebook / Follow us on Twitter