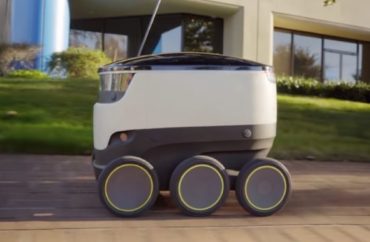 UPDATED
At a handful of universities nationwide, students are adjusting to sharing their campuses with food delivery robots that roam the quad alongside them, a new and growing trend that has seen its share of laughs and hiccups.
So far, the so-called delivery bots at Purdue, George Mason and Northern Arizona universities have completed more than 100,000 autonomous deliveries and traveled more than 350,000 miles, Henry Harris-Burland, a spokesperson for Starship Technologies, told The College Fix.
"Students have been amazing in embracing the robots on campus," he said. "We're very honored to serve the students, and they've been using our service very regularly since we started."
Still, students at these three campuses have had to learn to live side-by-side with their little, white AI friends — and on the flip side, the short, six-wheeled delivery robots have had to "learn" to traverse campuses.
As videos posted on social media and Reddit show, that process hasn't always gone super smoothly.
"Food-delivery robots struggle to navigate campus" was the headline for a short Sept. 13 article in the Purdue Exponent campus newspaper, which added that a university police officer was even dispatched to help a stuck robot cross the street.
"A common struggle for the robots has been navigating busy crosswalks. On the Purdue subreddit, students have taken to posting pictures and videos of the four-wheeled bots in precarious situations," the Exponent reports.
That subreddit shows dozens of posts that offer a mix of praise and mocking, such as one post headlined "pictures taken moments before disaster" showing a delivery bot and a car in an apparent collision course.
George Mason University students have also documented their share of laughs. For example, one video of a delivery bot falling off a ledge was set to the Sarah McLachlan song "In the arms of an angel." In another video, students boisterously cheer as a delivery bot en route heads straight into a horde of running sorority girls. And in a third video, headlined "David vs. Goliath," it shows a delivery bot and a campus cart in an apparent fender bender.
Is a gathering of robots called an uprising? The Purdue delivery bots are at it again pic.twitter.com/w9tQ4Fl69d

— Adeene Denton (@SpaceWhaleRider) September 19, 2019
The humor keeps coming, too.
One Northern Arizona University student made a comedic video of the robots, giving them voice overs as if they are thinking human beings trying to navigate the crazy world around them while just doing their jobs. The video shows the robots having funny standoffs with people and the occasional grocery cart.
In other posts, some students chide their peers for purposely blocking the robots as a prank. Other pictures bemoaned spilled coffee in the bots.
Harris-Burland, the spokesperson for Starship Technologies, told The College Fix that the robotics company hopes to expand to 100 campuses over the next two years.
He said the delivery bots operate "autonomously" but are "overseen by remote operators who sit in our office in Washington D.C., and other locations in the U.S."
Harris-Burland said he was unaware of incidents filmed by students involving the robots — "our robots are very safe traveling at walking speed of 4mph, they use sophisticated sensor fusion and machine learning to understand the world around them."
"It's like a bubble of awareness around the robot," he told The Fix.
A Purdue University spokesman, Tim Doty, told The Fix the "robots are still 'learning' at this point."
Doty added: "AI gets better and better as the robots travel more miles on campus. While there may be some initial slowness in crossing the street, that improves quickly with time. While they are autonomous, operators can assist them remotely if needed."
When asked about the loss of potential student jobs, Doty said it was not a concern to him or the university.
The College Fix has reached out to George Mason University regarding the incidents involving robots, but a campus spokesman did not respond to the request seeking comment.
In August, Axios reported critics of the self-guided machines point to the robots taking student jobs on campus. But it added the robots appear to be the way of the future: "As long as the market for food delivery continues to boom, the nascent autonomous food delivery business only has room to grow."
One professor agrees.
Donald Boudreaux, a respected professor of economics at George Mason University, told The College Fix that he believes that "GMU should provide the highest-quality service at the lowest possible costs to students, to Virginia's taxpayers, and to the university's many donors. … If using automation promotes this goal, then it should be used. The university certainly should not employ human beings — whether students or not — to supply services that can be provided less-expensively by automation."
When asked if AI is having a positive impact on productivity and student lives, Boudreaux stated "yes."
"People have feared automation from the beginning of humanity. These fears have never proven to be justified. Robots and machines are simply labor-saving tools. So too are buckets, wheels, levers, pulleys, and boxes. We humans are a tool-using species — almost always for our improvement," Boudreaux told The Fix. "There's no reason to believe that newly invented tools, such as the robot deliverers that now roam GMU's campus, are any more ominous or anti-social than are hammers, screwdrivers, and wheelbarrows."
GMU Professor of Public Affairs Steven Pearlstein, a former Washington Post columnist, told The Fix that he sees the robots as an overall positive move, warning against stopping innovation as a society.
Pearlstein did point to there being a possibility for a potential "loss in translation" when implementing bots on campus, which could lead to "a lot of people losing their jobs at the same time."
Editor's note: This article has been corrected to reflect that the robots have six wheels.
MORE: University researchers warn that we're biased against black robots
Like The College Fix on Facebook / Follow us on Twitter