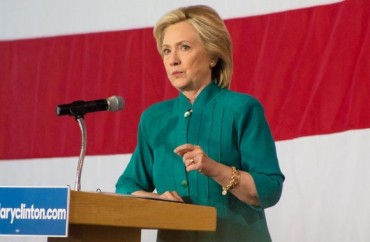 'I did not see any College Democrats there'
HANOVER, N.H. – A recent Hillary Clinton campaign stop at Dartmouth College saw College Republicans turned away from standing near the Democratic presidential candidate and College Democrats apparent no-shows at the event.
The Ivy League college, located in New Hampshire, offers a well-attended summer school session, which is required for sophomores – yet Dartmouth College Democrats' student leaders currently attending class there were nowhere in sight at Clinton's campaign stop Friday.
"I did not see any College Democrats there," student Charles Springer, a member of the Dartmouth College Republicans, told The College Fix on Saturday. "I had spoken with a couple College Democrats on the day before the event … and they all said that they were not going to the Hillary event … as she was not progressive enough for them and they did not like her as a candidate or as a person."
Dartmouth College Democrats' President Spencer Blair, who did not attend, responded to an email from The College Fix by saying he did not "have any relevant comment to make."
The Dartmouth College Democrats in late May hosted a Clinton competitor – presidential candidate Martin O'Malley – praising him on Facebook for being a "progressive" candidate.
As for Friday afternoon's event, oddly enough, the rally for Hillary Clinton had a better showing from the Dartmouth College Republicans. However, a staffer for the Clinton camp refused to allow College Republicans to stand near her, the group's members told The Fix.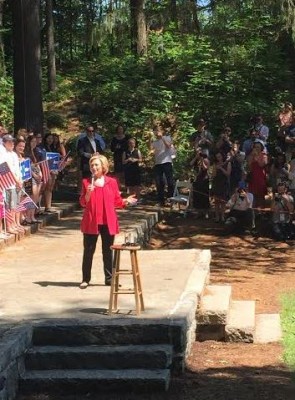 Shortly before Mrs. Clinton spoke, Clinton campaign staffers began to draw students and families from a corner of the crowd and place them on the stage, flanking the podium.
As Springer and Michelle Knesbach, both Dartmouth College Republicans, were about to pass through the hole in the rope and proceed toward the stage, a staffer stopped them. Springer recalled that the staffer said: "You guys are College Republicans, yeah?" When Knesbach replied in the affirmative, the staffer said, "Yeah, you guys can't come on stage."
Springer said the staffer later apologized to the two students, saying that his remarks had been rude and misleading, that those allowed on stage had been pre-selected. Springer said he does not buy it.
"I saw them very clearly picking people at the last minute to put up onstage, as several friends of mine who decided to come to the event at the last minute were on that stage," Springer told The College Fix.
Several international students who are not U.S. citizens were also on the stage.
Springer added that while he is far from a Clinton supporter, his "own personal and private affiliation as a Republican should have had nothing to do with my ability to stand on that stage." He said he had no plans to attempt any form of protest or rude behavior.
He said he was also surprised by the experience given that neither himself nor Knesbach presented any visual indication of their political views or identity. He said it deeply bothered him that his membership in College Republicans was known to the Clinton campaign and that they were able to identify him on sight.
Both students attempted to ascertain why their identities were known to the staffer, who was not a local, and they were refused an answer. The College Fix contacted the New Hampshire campaign headquarters, as well as local Democratic Party headquarters, but received no reply.
As for Mrs. Clinton's appearance, it attracted a crowd of students and townspeople, enough to fill a small field at the rural Hanover campus. The event, paid for by the Clinton campaign, included gourmet barbecue and desserts for at least 700 people.
Before Mrs. Clinton arrived (almost two hours late), the local Democratic Party Chairwoman, Deb Nelson, delivered a short speech. A teacher at nearby Lebanon High School, Nelson mentioned that many of her students were volunteering for the Clinton campaign. Using ambiguous wording, she further stated that she was planning on compelling all of her students to volunteer in the future. The College Fix telephoned Nelson, asking to clarify what she meant by forcing her students to volunteer.
Nelson's responded by saying she did not intend to suggest that she would force students to volunteer for Hillary Clinton, but merely that she would encourage them to participate in the electoral process, "not for any particular party," Nelson stated.
At one point in her speech, Clinton grandstanded about getting "dark money" out of politics. It's unclear how this statement stands against the fact that she has taken money from Citigroup, Goldman Sachs, JP Morgan Chase & Co., Morgan Stanley, Time Warner, Merrill Lynch, and Cablevision, as well as massive amounts of donations from wealthy individuals and questionable entities in foreign countries.
Like The College Fix on Facebook / Follow us on Twitter
Main image: Gregory Hauenstein, Flickr; Inside: Sandor Farkas