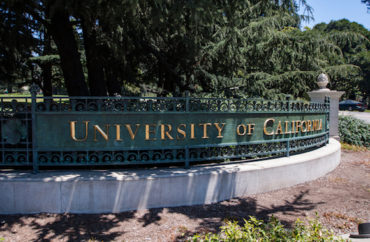 Activist says effort is 'race-based injustice and ethnic profiling'; spokesman calls claims 'baseless'
The Asian American Coalition for Education recently slammed the University of California, Berkeley, and the school's chancellor, Carol Christ, for the school's plan to become an "Hispanic Serving Institution." The group said that the university's plan is meant to be a system of "racial quotas" in violation of constitutional and statutory law, while a university spokesman sharply denied those charges.
The coalition of over 100 Asian-American organizations sent a letter to Christ in response to her Aug. 20 welcome address, in which she stated Berkeley's goal to become an "Hispanic Serving Institution" over the next 10 years. For a school to qualify as such, 25 percent of the student body has to be Hispanic.
The exact percentage of Hispanic students at Berkeley is not clear from the school's official numbers. According to the school's own Diversity Data Board, 14 percent of students identify as "Chicanx/Latinx." Those terms are not wholly synonymous with "Hispanic." The university's Office of Planning and Analysis, meanwhile, states that in 2017, 3.7 percent of new freshmen were identified as "other Hispanic/Latino."
In the Coalition's letter to Christ, the organization's president, Yukong Zhao, called for Christ to abandon the plan, arguing that it would constitute a violation of statutory and constitutional law. The letter cites the 1978 Supreme Court case Regents of the University of California v. Bakke, which "ruled specific racial quotas as impermissible," Zhao wrote in the letter. That ruling was later affirmed by 2003's Grutter v. Bollinger. The letter also states that the plan is in violation of the California state constitution and the Civil Rights Act of 1964.
"The University of California, Berkeley is a public educational institution receiving government financial assistance on both federal and state levels. As such, the university must comply with pertinent federal and state laws as well as relevant government guidance on higher education," the letter reads.
Reached for comment via email, Coalition co-founder Swan Lee offered more criticism of Berkeley's plans.
"It is alarming how some leaders of America's top educational institutions take students' equal educational rights so lightly, and don't hesitate to trample upon their right to fair competition for best matched educational opportunities, regardless of what skin color they have, or where their ancestors came from," Lee told The College Fix. "Racism begets racism, no matter what doublespeak, pretty excuses are used to cover up such deep race-based injustice and ethnic profiling."
"A Gallup poll (from 2016) showed that 70% of Americans, regardless of race, favor merit-based college admissions," Lee added. "These self-righteous clueless intellectual leaders need to stop forcing policies of racism and ethnic profiling on Americans, and stop selling out students' equal opportunities for easy, convenient money."
Lee also said that her organization had not heard back from Christ and is assuming they never will.
A Berkeley spokesman said that the Coalition's claims "are unfortunately based on the baseless and completely erroneous assumption that this University is planning to use racial quotas as part of its admission process."
"We have no quotas of any sort at present, and nor will we have quotas in the future," spokesman Dan Mogulof told The Fix via email. "There is a major difference between changing admissions policy and practice—which we are not doing—and seeking to encourage admitted to students to enroll. Given our belief in the benefits of diversity writ large, we will continue to seek appropriate, legal ways to facilitate the enrollment of already admitted students from under-represented groups who are clearly qualified and competent based on the standing criteria of our admissions policy. "
"We believe that, as a public university, we have a responsibility to uphold the law; prepare our students for the diverse, multicultural world and workplaces they will inhabit; and, to the greatest extent possible, reflect and embody the demographics of the state we serve," Mogulof added.
According to the Hispanic Association of Colleges and Universities, five of the University of California's 10 campuses—Irvine, Merced, Riverside, Santa Barbara and Santa Cruz—are already Hispanic Serving Institutions.
15 of California State University's 23 campuses, meanwhile, are Hispanic serving, according to the Association.
MORE: Harvard launches fellowship centered around 'Latino issues'
MORE: Asian-Americans are showing people how absurd affirmative action is
IMAGE: gary yim / Shutterstock.com
Like The College Fix on Facebook / Follow us on Twitter