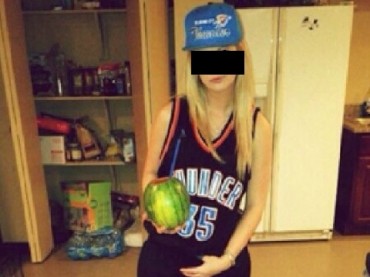 A fraternity's charter at Arizona State University has been suspended and an investigation has been launched after frat members hosted a party Sunday at which revelers "dressed black."
Tau Kappa Epsilon at Arizona State held a "MLK Black Out" party the day before the Rev. Martin Luther King, Jr. holiday, prompting outrage and apologies.
"Some are saying the party was intentionally racially charged because all of the attendees were white, the dress code was basketball jerseys, they were flashing gang signs in pictures and drinking out of watermelon cups," ASU student Dakota LaRavia told The College Fix.
More than anything, it "was a merely a day to get together with a bunch of frat buddies," said LaRavia, who did not attend that party but knew other students that had.
"Overall, it's a frat that decided to be stupid and in the end they've only hurt their reputation," she said, adding she did not think the campus as a whole would be deemed racist as a result.
A large contributing factor to the controversy ensued as a result of partygoers posting pictures on the social media website Instagram depicting events of the evening. They quickly went viral. Most of the associated Instagram accounts have since been deleted, or are private.
This has not been the first time TKE has been in trouble with university officials. The chapter was taken off suspension in December, a punishment that was the result of a student injured during a hazing initiation.
In a statement emailed to The College Fix, ASU spokeswoman Julie Newberg condemned the party.
"The party TKE held last weekend was not held on campus and was not a sanctioned university event," she said. "Because of the latest incident, ASU has suspended chapter operations, can and will take additional action against the individuals involved, and is meeting with the national TKE organization today to take further action against the chapter."
"ASU has one of the most diverse student bodies of any major university in the country, and it is unfortunate that a few misguided individuals held an offensive party at a time when ASU, the state and the nation are celebrating Dr. King's achievements and legacy," she added.
A member of the Tau Kappa Epsilon Fraternity professional staff is at Arizona State University to begin an investigation, and local black rights activists are collaborating with ASU to aid the university in developing its reaction.
"Senior Vice President for Educational Outreach and Student Services James Rund has already spoken to two community leaders, Rev. Oscar Tillman, and Rev. Jarrett Maupin, about the university's response to this incident," Newberg continued. "The university will not tolerate this kind of behavior."
The national TKE organization has also spoken out, releasing a statement which disavowed any connection to the party in Arizona.
"Tau Kappa Epsilon does not condone or support any actions by its members that would be defined as racist, discriminatory, and/or offensive," the statement read. "We apologize for any offensive actions that a few of our members might have participated in."
"We can assure all other parties that these actions do not represent Tau Kappa Epsilon and the beliefs of love, charity, and esteem that we have stood by for 115 years."
College Fix contributor Julianne Stanford is a student at the University of Arizona.
IMAGE: Instagram
Like The College Fix on Facebook / Follow us on Twitter