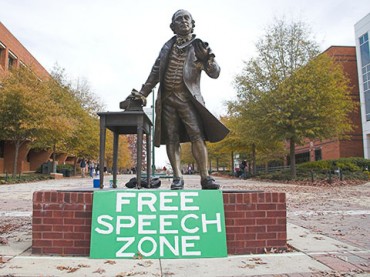 The University of North Florida got some good PR today when it was crowned with a student-rights group's highest distinction for its policies on expression.
The Foundation for Individual Rights in Education gave the school a "green light" rating for eliminating speech codes, coming far from where it started a year ago:
FIRE began working with UNF in October 2014, when UNF had three speech codes earning FIRE's worst, "red light" rating and an additional three policies earning a "yellow light" rating.
Those codes covered sexual harassment, residence life, and bullying/cyberbullying, FIRE said. UNF is the 23rd school to earn the green-light rating and second in the state, after the University of Florida.
It joins a handful of other schools that made the cut for FIRE this year, including Purdue University, led by former Indiana Gov. Mitch Daniels, a Republican.
Like The College Fix on Facebook / Follow us on Twitter
IMAGE: dcJohn/Flickr