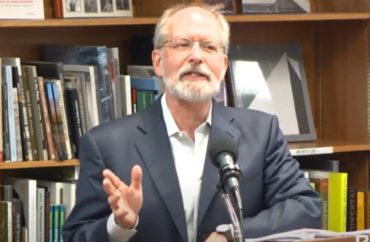 The Barnard College professor who said the N-word in a discussion about rapper Eminem will face no repercussions from the school's Title IX office.
Several students filed a complaint after Jonathan Rieder (right) used the epithet in his "Culture in America" class in late October when quoting lines from the film 8 Mile.
After reviewing video of the class in question, Barnard's Office of Nondiscrimination and Title IX ruled Rieder's actions "did not qualify as discriminatory harassment" and that there is "no basis for further investigation," the Columbia Spectator reports.
The students who made the complaint are "frustrated."
"For tenured professors, the only thing they can't do is harm students," said (the pseudonymous) Sarah. "So they said that this doesn't classify as harming students […] Those are the benefits of being tenured. You're allowed to say whatever you want, and you're allowed to say things that people don't like."
In Sarah's opinion, adjunct professors "don't have the same freedoms that tenured professors do. … Things like this can get them way more in trouble." Adjunct instructor Dinah PoKemper [sic], for example, was not invited to teach at Columbia for the 2021-22 school year after saying the N-word 11 times in her International Human Rights Law class last spring.

After hearing about the office's decision, Sarah and her peers who filed the Title IX complaint talked to Vice Dean Nikki Youngblood Giles; sociology department Chair Mignon Moore; and Jennifer Rosales, executive director of the Center for Engaged Pedagogy, about their concerns about staying in the course for the rest of the semester. To ensure an inclusive academic environment, students who filed the report now have the option not to attend class and to have their work assessed by an outside grader to avoid possible retaliation from the professor for speaking out.
The officials to whom Sarah and the other complainants spoke recommended setting up a committee "to create a policy that more clearly defines hate speech in academic settings," especially with regards to tenured faculty.
As noted by The College Fix earlier this year, Dinah PoKempner's use of the N-word came during a discussion about the "comparative legal treatment of hate speech."
MORE: Teacher in hot water after allegedly using N-word in discussion about rap music
ALERT: Check out our new Campus Cancel Culture Database!
IMAGE: Politics and Prose/YouTube
Like The College Fix on Facebook / Follow us on Twitter