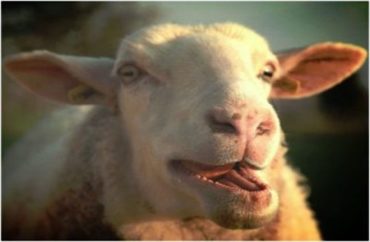 College appears to have opened up a tin can of trouble
We're not kidding around: a labor union at Western Michigan University is making hay over the livestock that are allegedly stealing the union's jobs.
Western Michigan and Local 1668 of the American Federation of State, County and Municipal Employees have locked horns over the university's use of goats to scale back the vegetation on a university-owned lot, according to The Grand Rapids Patch.
The university and the union are butting heads over what the union calls "scab labor" in the form of goats. The union claims that the goat labor has rammed directly into the professional opportunities that rightfully belong to the union, and that the university is fleecing the union out of their right to employment.
Western Michigan claims the dust-up is much ado about mutton: "University spokeswoman Cheryl Roland told the Enquirer that the goats weren't brought on campus to cut grass, a union job, and that they tackle weeds and vegetation overgrowth that can be dangerous to humans, such as poison ivy," according to the Patch.
No one complained about the grazing goats, Muncher on Hooves owner Garrett Fickle told WOOD-TV. The university used goats in a pilot project last year, liked the results and brought the herbivores back for another year.

"When you use a Bobcat to try to clear things, it just compacts the ground, tears up your seeds," Fickle said. "It takes your seeds that are dormant and brings them to the surface, then allows them to grow. Well, when a goat goes to the bathroom, the seed doesn't grow."

Fickle and his wife, Gina, have been raising Boer goats for seven years and began using them to clear buckthorn from their property near Coldwater, Michigan, in 2015.

"Our goats all have their own personalities and work together as a team in hard-to-reach places. Every site that they go to is seen by them as a new salad bar," Gina Fickle said in a Western Michigan University press release. "They're friendly and used to working 24 hours a day, whether in the country or city. Noise doesn't bother them — they just kept on munching even with the recent fireworks."

In the complaint, AFSCME Local 1668 says the deal with Munchers on Hooves for goats to clear overgrown vegetation violates its collective bargaining agreement, the Battle Creek Enquirer reported. The university didn't notify the union that it was planning to use goat crews, according to a chief steward report obtained by the newspaper.
This is, of course, a difficult situation. It is hard to know what the proper solution is. What would ewe do?
MORE: What not to do for 'exam stress': have sex with a sheep
Like The College Fix on Facebook / Follow us on Twitter
IMAGE:Flickr