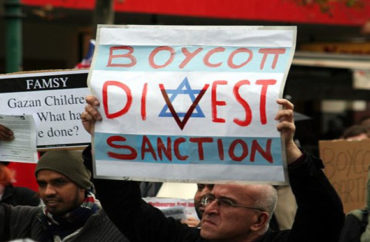 Earlier this month, the Student Senate at Pennsylvania's Dickinson College passed a resolution to ban Sabra hummus from a campus convenience store.
According to The Dickinsonian, "A Resolution To Endorse the Banning of Sabra Hummus from the Devil's Den" would halt the sale of Sabra beginning in February of next year, or when the current inventory runs out (whichever comes first).
The resolution notes Sabra is partly owned by the Strauss Group, "a company that financially and morally supports the Golani and Givati brigade of the Israeli Defense Force (IDF)." The IDF, the resolution alleges, "maintains a cycle of oppression for Palestinian peoples in violation of international law."
Resolution author Henry Cohen said the motion is all about "taking the moral high ground."
"Throughout my life, I have stood in contrast to my Jewish neighbors on the issue of Israel at the cost of alienation and exclusion," Cohen said. "I have stayed silent for the most part while at Dickinson, but now I find it in myself to invite my Jewish brothers and sisters to join me in this fight for justice."
Nevertheless, Cohen's provision is moot — the Dickinson administration has no plans to implement the ban.
Provost & Dean of the College Neil Weissman said "Our policy is not to engage in boycotts […] we engage in international partners, we [the college] don't boycott and that would include doing business."
The Algemeiner reports Cohen's father owns the Washington DC business Bullfrog Bagels, and that his sister is active in BDS (boycott, divest, sanctions) activities at Haverford College.
A Change.org petition had been created calling for a boycott of Bullfrog Bagels (and had 90 signatures as of December 6); however, the petition no longer exists.
BOYCOTT ANTISEMITIC BUSINESS – @BullfrogBagels owner, Jeremiah Cohen boasts a hatred of Israel. Cohen and his children are part of an effort to target Jews and delegitimize the only Jewish state in the world. https://t.co/b1i0ZiB5YQ

— BDS Report (@BDSreport) December 2, 2019
The College Fix asked @BDSreport, which tweeted in favor of the boycott on December 2, for information about the petition's removal. It responded that Change.org "removed the petition without any justification."
@BDSreport noted it attempted to re-establish the petition, but Change.org's customer service did not "respond to [its] multiple requests."
Read the Dickinsonian and Algemeiner articles.
MORE: Anti-Israel activists fail as Columbia student government rejects BDS
MORE: University of Oregon BDS resolution shot down as 'unconstitutional'
IMAGE: Takver / Flickr.com
Like The College Fix on Facebook / Follow us on Twitter