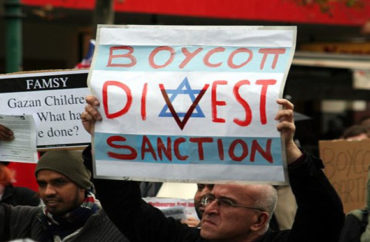 The judicial branch of the Associated Students of the University of Oregon struck down a BDS — boycott, divestment, and sanctions (against Israel and associated businesses) — resolution passed last year by the UO student senate.
The ASUO determined BDS violates the "viewpoint-neutral" principle by which public universities must comply when it comes to allocating student fees. The US Supreme Court ruled on this issue in 2000 in Southworth v. The Board of Regents of the University of Wisconsin System.
According to The Algemeiner, it was determined BDS also breaches the ASUO constitution: The ASOU is forbidden from "abridging the privileges and immunities of any person or program" under school, state, and federal laws," and also cannot withhold access "to activities supported by student fees 'for reasons of sex, race, religion, age, sexual orientation, marital status, handicap, political view, national origin or any other extraneous considerations.'"
The ruling came after ASUO Senate President Montserrat "Montse" Mendez-Higuera filed a motion for clarification with the court in October, several months after the BDS measure was passed in May with a vote of 12 in favor and six against.

Introduced by Students United for Palestinian Equal Rights (SUPER) and endorsed by 30 groups — among them the school's Multicultural Center and associations representing Arab, Native American, Southeast Asian, Muslim, Vietnamese, LGBTQA, and intersectional feminist students — the bill called on ASUO to blacklist products and divest from several companies over their ties to Israel.

Weeks later, a welcome sign belonging to the university's Hillel Jewish campus group was vandalized with pro-Palestinian profanity, including the message, "Free Palestine you f*cks."
The Daily Emerald has a detailed history of the UO BDS motion and debate surrounding it.
Algemeiner notes UO President Michael Schill lauded how the measure was debated in a "respectful manner," but had cautioned that BDS "contradicts the ASUO mission to support the interests of all students in a diverse community."
MORE: Anti-Koch group tries to get hummus banned from univ. in BDS effort
MORE: BDS: UMich prof refuses recommendation letter for student's semester in Israel
IMAGE: Takver / Flickr.com
Like The College Fix on Facebook / Follow us on Twitter