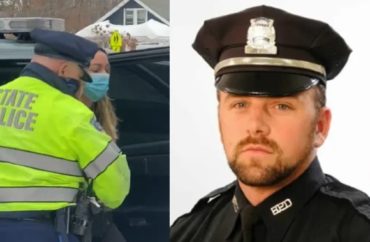 Defense attorney questioned the investigation
A Norfolk County grand jury indicted Karen Read for the murder of Boston police officer John O'Keefe.
The indictment on Thursday accuses Read (pictured) of second-degree murder in the death of O'Keefe, her boyfriend. Read allegedly dropped her boyfriend (pictured) off at his home on Saturday, January 29 after the pair were drinking. She pulled away and allegedly hit him with her car without knowing it.
She pleaded not guilty according to WCVB 5, which reported on the case. The news station did not provide any further documents related to the accusations.
"On Friday morning she entered a not guilty plea to the new charges and her defense attorney suggested there are 'grave reasons to be concerned about the ethics of the police investigation,'" the ABC affiliate reported.
"We have uncovered that the lead detective is very close with the owners of that property," David Yannetti told WCVB. "He was supposedly assigned to the case to avoid the appearance of impropriety."
"The attorney also told the court he has photographic evidence showing his client's vehicle was in a 'different condition' than when police had it," WCVB reported.
The university reassigned her course in the spring, but she is still listed on Bentley's website.
"By now you may have seen or heard the news involving a member of our community and the death of a Boston police officer," Donna Maria Blancero, vice president for academic affairs, said in February. "Karen Read is an adjunct lecturer at Bentley. The university cannot comment on an active investigation, but we are aware of the evolving situation and following it closely," the Patch reported.
She taught courses on equities, financial markets and corporate finance, according to her bio.
MORE: Florida professor arrested on child porn charges
IMAGE: 7 News/Twitter; Boston Police
Like The College Fix on Facebook / Follow us on Twitter