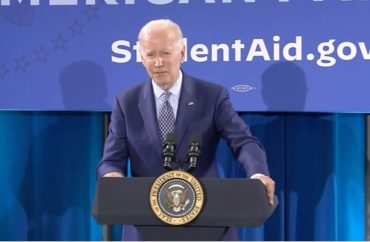 Low-income borrowers would pay $0 under new proposal
President Joe Biden's Department of Education introduced a novel student loan proposal on Tuesday, the Revised Pay As You Earn Repayment Plan, to eliminate or lower some federal aid borrowers' income-driven monthly payments, according to Federal Register.
Borrowers enrolled in a federal aid income-driven repayment plan pay a set monthly amount based on their income and family size, according to StudentAid.gov.
The proposed regulations aim "to create the most affordable and simplified income-driven repayment (IDR) plan ever for student loan borrowers," the department tweeted.
Under the new plan, also known as REPAYE, low-income borrowers would pay $0 per month, according to a Department of Education news release.
Specifically, individual borrowers who make less than approximately $30,600 per year and adults in of four or more who make less than about $62,400 would have no payments.
Those who earn more would have their monthly amounts due cut in half, with payments of no more than five percent of their income, the release stated.
Additionally, those with starting balances of $12,000 or less may see their loans forgiven in a decade.
Overall, borrowers under the new scheme would reduce their total payments per dollar borrowed by 40 percent, and an estimated 85 percent of community college borrowers would have no debt 10 years after beginning their payments, according to the release.
Today, ED is proposing regulations to create the most affordable & simplified income-driven repayment (IDR) plan ever for student loan borrowers, reducing the cost of federal student loan payments: https://t.co/6aYzgfQZDW
[ 🧵 ⬇️ ] pic.twitter.com/w8Nky5qAbh

— U.S. Department of Education (@usedgov) January 10, 2023
Both undergraduate and graduate school borrowers will be eligible, CNBC reported.
Those whose loans are in default are currently ineligible for income-driven repayment under most circumstances, but the new proposal would allow some of them to sign up.
The new plan might be fully available by July 1, 2024, financial aid expert Mark Kantrowitz told CNBC.
The percentage of undergraduate borrowers enrolled in an income-driven plan rose to about a quarter from 11 percent between 2010 and 2017, and the share continues to increase, the Congressional Budget Office website states.
The new program would not cover private loans.
The Supreme Court is scheduled to hear oral arguments on Biden's original student loan bailout plan at the end of February, its second defense in front of the court, The College Fix reported in December.
The administration began accepting applications in October, but the lawsuits have halted the process and it is unclear whether loan forgiveness will proceed.
The Biden administration had removed the bailout portal from the Department of Education website after Texas federal judge Mark Pittman struck down the initiative in a ruling in November, according to The Fix.
MORE: Cato Institute sues to stop Biden $400 billion student loan bailout
IMAGE: WKYC Channel 3/YouTube
Like The College Fix on Facebook / Follow us on Twitter