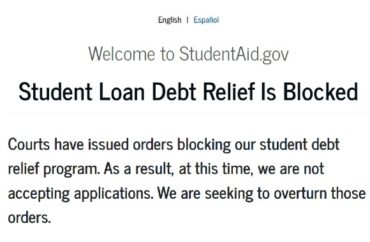 Federal judge struck down the program on Thursday
President Joe Biden's administration is no longer processing requests for taxpayers to bailout student loan borrowers after a recent court ruling.
"Courts have issued orders blocking our student debt relief program," StudentAid.gov currently states. "As a result, at this time, we are not accepting applications. We are seeking to overturn those orders."
The decision came after U.S. District Judge Mark Pittman of the Northern District of Texas struck down the bailout on Thursday.
While there are several lawsuits pending against the bailout, this particular case was filed by the Job Creators Network Foundation in October "on behalf of a borrower who does not qualify for the full $20,000 in debt relief and one who is ineligible altogether. The suit alleges the administration violated federal procedures by denying borrowers the opportunity to provide public comment before unveiling the program," the Washington Post reported.
The Justice Department has appealed the decision, according to CNBC.
"The main obstacle for those hoping to bring a legal challenge against Biden's plan has been finding a plaintiff who can prove they've been harmed by the policy," CNBC reported.
The administration has already approved 16 million of 26 million applications, according to the business news outlet.
"The program is suspended but the U.S. Department of Education is appealing," an education expert told CNBC. "And there were several aspects of the Texas court ruling that are unusual and may yield a successful appeal," Mark Kantrowitz told CNBC.
MORE: 'I don't need the federal government to pay off my student loans': Gen Z grad
IMAGE: StudentAid.gov
Like The College Fix on Facebook / Follow us on Twitter