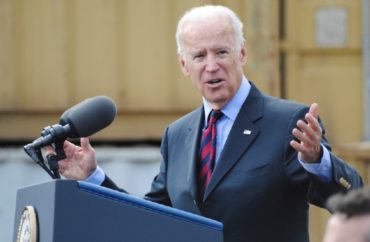 The U.S. Department of Education under President Joe Biden is dragging its feet on a rule change that would better protect Jewish students from discrimination based on their ethnicity.
The department's Office for Civil Rights has postponed codifying new guidance for interpreting Title VI of the Civil Rights Act until at least December 2023, marking the second time it's delayed the action.
The rule change had been put forth as a result of then-President Donald Trump's 2019 Executive Order 13899, titled "Combating Anti-Semitism."
"While Title VI does not cover discrimination based on religion, individuals who face discrimination on the basis of race, color, or national origin do not lose protection under Title VI for also being a member of a group that shares common religious practices. Discrimination against Jews may give rise to a Title VI violation when the discrimination is based on an individual's race, color, or national origin," Trump's order stated.
Inside Higher Ed reported in January that the Education Department pushed off "updating the regulations for Title VI of the Civil Rights Act of 1964 to protect students from harassment and discrimination because of shared ancestry or ethnic characteristics until December 2023."
"The department has previously said it would issue a new rule in December 2022 as part of an effort to combat antisemitism."
Instead, the department opted to publish a fact sheet.
The fact sheet "outlines how students who are or are perceived to be Jewish, Christian, Muslim, Sikh, Hindu, Buddhist or of another religious group are protected under federal law. Title VI of the Civil Rights Act of 1964 protects students from race, color and national origin discrimination," Politico reported.
The expected — and delayed — rule change would have enshrined the International Holocaust Remembrance Alliance definition of anti-semitism in Department of Education policy. In so doing, Jews discriminated against because of their shared ancestry or ethnicity would have legal standing to redress their grievances.
Kenneth Marcus, chairman of the Louis D. Brandeis Center for Human Rights Under Law and former head of the OCR, told The College Fix via email that rather than giving new powers or responsibilities to the Department of Education, codifying the Trump-era Executive Order will merely preserve the status quo.
"The new regulation would keep all of this in place, despite continuing efforts from many left-wing critics to remove them," Marcus said.
"Some people misunderstand what is meant by codifying the Trump order. It doesn't mean that the federal government would investigate any form of conduct that meets the IHRA definition of anti-Semitism. Rather, it means reinforcing both the Trump rule on anti-Semitism and also the Trump protections for free speech."
It comes "at a time of record-high anti-Semitism levels," said Marcus, who is especially concerned after the announcement that FBI data "enormously understates the extent of anti-Semitic incidents."
Recently, a series of antisemitic incidents have affected students across the country from UC Berkeley to Brooklyn College and more.
A spokesperson for the IHRA reiterated the importance of the IHRA antisemitism definition for protecting Jews.
"Antisemitism threatens our democratic freedoms, while marginalizing and silencing those targeted by it. The working definition helps people recognize antisemitism in its various forms and is a valuable tool for entities to better monitor and track antisemitism on an international scale," said Megan Corsano, spokesperson for the IHRA, in an email to The College Fix.
Despite his disappointment that the regulation still remains in limbo, Marcus said he is thankful that Assistant Secretary for the Department of Education Office of Civil Rights, Catharine Lhamon, issued the fact sheet reaffirming OCR commitment.
It comes as "many university administrators, especially at left-leaning universities, have refused to take the Executive Order on Combating Anti-Semitism seriously, because the Trump administration is over and remains unpopular," Marcus said.
Ultimately, for Marcus the question comes down to a matter of equality.
The Biden administration has "been very strong when it comes to rightwing violations. The question is whether they will be equally strong when it comes to hate and bias incidents within their base," he said.
MORE: Report details 'pervasive and relentless assault' on Jewish and pro-Israel students nationwide
IMAGE: Marlin 360 / Shutterstock
Like The College Fix on Facebook / Follow us on Twitter