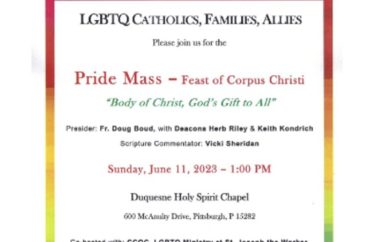 'I am asking that this event be canceled,' bishop says
A scheduled "Pride Mass" to be held at Duquesne University's chapel by an outside group should be canceled, according to the local bishop.
Bishop David Zubik of the Diocese of Pittsburgh reportedly criticized the planned mass at the Catholic university's chapel after he found out about it. Eric Sammons, editor of Catholic magazine Crisis, shared a response the bishop wrote in response to inquiries.
Both the Diocese of Pittsburgh and Duquesne individually confirmed the authenticity of the message Sammons posted in response to inquiries from The College Fix.
The bishop said neither the diocese nor the president of Duquesne knew about the event. "What we have learned is that independent sponsors, without the authorization of the pastors of the parishes listed, promoted the event with a flyer that confused some and enraged others," the message stated.
"This event was billed as a 'Pride Mass' organized to coincide with Pride Month, an annual secular observance that supports members of the LGBTQ community on every level, including lifestyle and behavior, which the Church cannot endorse," the bishop wrote.
"I am asking that this event be canceled," Zubik wrote.
The event, hosted in part by St. Mary Magdalene Parish's LGBT ministry, is not listed on the group's website and at least one social media user replied to Sammons' tweet indicating the Mass had been canceled. Neither the diocese nor Duquesne responded to a Fix question about the status of the Mass.
While Duquesne University ostensibly was caught up by mistake in the promotion of homosexuality, at least one other Pennsylvania Catholic university does so openly and intentionally.
Villanova University promotes "Pride Month" and staffers created an "inclusive language guide" because "gender inclusivity is fundamental to Villanova's mission."
The guide encouraged faculty to incorporate discussions of gender in the classroom through gender-focused readings, The Fix reported in August 2022.
"If gender is relevant to what you're teaching, then be explicit about these connections and, if possible, teach the research and scholarship of transgender, nonbinary, and gender-nonconforming people," the guide suggested.
The university also scrubbed a "gender queer" option from its housing application website after media coverage. It blamed the error on a vendor.
While some Catholics are organizing celebrations of pride, the deadliest of sins, others, along with Protestants, are organizing "Fidelity Month" to celebrate God, marriage and family.
MORE: Texas authorities investigate med school for trans procedures
IMAGE: Mary Margaret Olohan/Twitter
Like The College Fix on Facebook / Follow us on Twitter