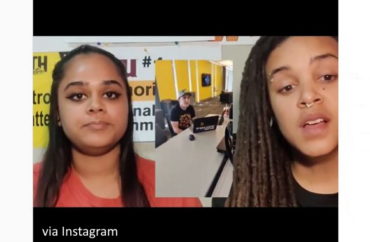 Students demand their records be cleared
Two black female students at Arizona State University claim that the university discriminated against them following a viral encounter with two white students last September.
ASU opened an investigation into student leaders Sarra Tekola, a supporter of the local Black Lives Matter group currently working on her PhD, and Mastaani Qureshi after they confronted two white male students, criticizing them for being in the campus multicultural center.
In a recent video posted in response to the conclusion of the investigation, Tekola and Qureshi shared that ASU found them "guilty of interfering with university activities."
ASU issued a warning and asked Tekola and Qureshi to write a three-page paper on how they will act civilly during future conversations with white people regarding race and society, the two stated in their video, posted Dec. 22 to Instagram.
"Dear white people aka ASU," Qureshi and Tekola stated together in the video. "You openly discriminated against us on November 16th when you handed down your decision from your racially biased investigation. We are being persecuted for defending our multicultural center from racism and sexism."
The two students have an attorney and demand that ASU clear their records of the code of conduct violations, according to an article in the State Press.
Qureshi did not reply to a request from The College Fix for a copy of the letter from ASU detailing the consequences for their actions.
"This video is in fulfillment of our educational intervention. We are going to give ASU an educational intervention on why telling students of color at ASU to be more civil in the face of white supremacy and neo-Nazism on this campus is actually violent," Tekola said.
Tekola and Qureshi recalled the Sept. 23 incident at the beginning of their video. Qureshi asserted that "hateful and racist symbology" belonging to the two white male students made the multicultural center "unsafe for BIPOC students who were trying to study."
The pair cited a "Police Lives Matter" sticker, Bass Pro hat, Chick-fil-a cup, and an "anti-Biden" T-shirt as evidence of such symbols in possession of the two white men. Tekola claimed that the laptop sticker was directed toward a black woman who was "leading black study tables" in the space, amounting to "nonverbal, aggressive gestures."
After students called ASU for help, Tekola and Qureshi said they were "forced" to confront the white students after no one came for over 30 minutes, said Tekola.
Qureshi said she and Tekola "received thousands of rape, death, and lynching threats" on their social media and email accounts every day since the incident two months ago.
"ASU was aware of how we were getting doxed and suffering psychological and emotional violence by white supremacists from across the country, but it still did not protect us," Tekola said. "Instead, they launched an investigation against us, and we had to mobilize the community to protect ourselves from getting kicked out by the institution."
Qureshi labelled ASU as "a violent place," and the two students mentioned multiple incidents on campus after the initial Sept. 23 confrontation.
A copy of the Quran and library property was found damaged Dec. 8 in the ASU campus library during what Qureshi described as "an Islamophobic attack." Arizona State University police arrested a 38-year-old homeless man over the incident, ABC News reports.
Muslim women sometimes are locked out of small spaces to pray in at the multicultural center, added Qureshi.
Antisemitic posters published in the name of the ASU College Republicans United were reported on campus Oct. 31, Tekola said, also noting that CRU raised money for Kyle Rittenhouse.
CRU denied allegations that they produced the antisemitic posters, The College Fix reported. The conservative group offered $1,000 to anyone with knowledge on who hung the flyers.
The recent video of Qureshi and Tekola included clips of two ASU professors voicing support for the pair in recordings also posted online.
Camilla Fojas, foundation professor and director of the School of Social Transformation, called the reaction "justified" and "equal to the symbolic violence" of the situation.
ASU Professor of English Lee Bebout discussed how "calls for civil dialogue can be weaponized in two critical ways," such as when a "white person actively trolls and provokes an encounter but does so in a relatively implicit way."
"Say they enter a space meant to foreground the experiences of people of color and these folks deploy a rhetoric meant to diminish black and queer lives," said Bebout. "As long as the trolling is plausibly deniable to an ideologically white-oriented audience, then any pushback that the white individuals receive may be cast as aggression. The active instigation itself will be erased and the instigators will be cast as victims."
ASU did not reply to a request from The College Fix for a statement addressing the video.
The Multicultural Solidarity Coalition, a student group founded by Tekola in 2015, organized a press conference Nov. 16 on the Tempe campus to talk about the situation, the State Press reported. ASU students, faculty and staff attended the event to support Tekola, Qureshi, and Miriam Araya, a third student involved in the confrontation who did not face any charges.
The MSC also published a response to the Sept. 23 incident and is calling for new multicultural centers on every ASU campus.
"We understand 'blue lives matter' to be an explicit rejection of the Black Lives Matter movement and therefore an overt threat to Black lives," the response reads. "In the new multicultural centers, we will not tolerate people entering with racist slogans to intimidate and antagonize historically and currently marginalized students."
ASU permitted one room to be used as a multicultural center at Tempe this past fall due to earlier demands by the MSC, according to the Arizona Mirror. The MSC started a petition four years ago to advocate for a multicultural center, part of their proposal to oppose "systems of oppression" at ASU.
"Students from marginalized backgrounds continue to suffer academically, mentally, emotionally, and physically at ASU due to the lack of equitable resources that are on campus for them," a digital letter of support for the MSC states. "Building this center is the first step in addressing the oppression of marginalized students."
According to the letter, a new multicultural center would include separate spaces for students who identify as Muslim, women, queer and trans, Black-African, Asian, Latinx, immigrants and international students.
MORE: Black students harass white peers at Arizona State U. multicultural center
Like The College Fix on Facebook / Follow us on Twitter