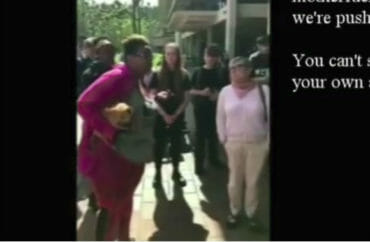 A controversial former professor at Evergreen State College who resigned last December is now speaking out about her perception of the racial uproar that engulfed the campus in a column for Medium headlined "I fought academia's cult of civility and all I got was this lousy PTSD diagnosis."
Amid the turmoil at the Olympia, Washington-based campus last year, media arts Professor Naima Lowe was recorded cussing out several white colleagues for being insufficiently supportive of leftist student activists and their demands, telling her peers "you are now the motherfuckers that we're pushing against. You can't see your way out of your own ass."
Lowe also once posted on Facebook, "could some white women at Evergreen come and collect Heather Heying's racist ass," referring to a white peer who did not agree with Lowe's narrative.
Lowe's resignation was a condition of her $240,000 settlement to resolve her tort claim for discrimination and a hostile work environment. She had been on leave since the start of the academic year because of online attacks against her that escalated over the summer.
Lowe republished some of the online attacks she received in her Medium piece and they are indeed vile, disgusting and inexcusable. She also argues that the infamous video of her berating her white colleagues was selectively edited.
But in her column, published Oct. 15, she remains unrepentant of any role she played in fanning the flames of racial unrest at the school, continues to blame whiteness as an enemy, and writes that she's in no mood for "civility."
From Lowe's column:
I am furious that students standing against racism were characterized as thugs. I am furious that so many of my colleagues working towards equity on campus were targeted, and that several have left the school. I am furious that there are staff of color on campus still experiencing fallout from this disaster. I am furious that misinformation has damaged the morale of those at Evergreen who are working to support students of color. I am furious that I had to leave my job and practically remain in hiding for the past year in order to regain a sense of safety. I am furious that this pattern of valuing civility over dissent and comfort over justice is repeated so frequently and in so many parts of American culture. …

I believe that anger is useful and productive, and I'm no longer afraid to express mine with all its potency. Students and young people are often at the forefront of our movements and if we're smart enough to pay attention, they can teach us important lessons about resisting the systems that demand our complacency and compliance. Civility hasn't stopped the oncoming train of far right white nationalism in this country, and it doesn't solve racism on college campuses. The concept is totally subjective, based on the values of those in power, and is consistently weaponized against women, people of color, young people, queers and others marginalized within public discourse. I lost my willingness to adhere to this arbitrary standard of behavior with people who should know better. …

Fuck your civility.
Read the entire piece here.
MORE: Madness reigns at Evergreen State College as students 'take over'
MORE: Evergreen State prof who called white peers 'motherf—ers' resigns
MORE: Evergreen State president kowtows to student demands
MORE: White professor forced to flee campus as police say he's not safe
MORE: Students harass white prof for refusing to leave campus
IMAGE: YouTube screenshot
Like The College Fix on Facebook / Follow us on Twitter