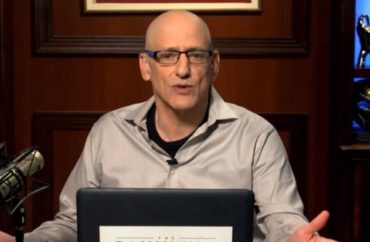 This past Tuesday at Boston College approximately 100 protesters "chanted, clapped, stomped," and pounded on windows in an attempt to thwart conservative pundit Andrew Klavan from speaking to the BC College Republicans.
According to The Heights, Klavan's appearances at colleges "have been protested by students and administrators alike" due to his (alleged) "racist and Islamophobic" comments. He's also committed the grievous sin of proclaiming Western/European culture as superior.
Much of Klavan's BC speech was inaudible due to protesters' noise-making, the student paper reports.
The College Republicans moved up the time of the event by 15 minutes and had changed to a smaller venue, both of which thwarted the activists from demonstrating inside the classroom.
Outside, the protesters chanted "No hate! No fear! Muslims are welcome here!" and "No justice! No peace! No racism at BC!"
Undergraduate Government President Michael Osaghae said that Islamophobic and anti-LGBTQ+ speakers "shouldn't come here in the context of it's not even open to students who attend."
Student Aneeb Sheikh claimed it was "dangerous" that Klavan was permitted to speak at BC, and added the College Republicans should apologize for inviting him.
"I'm pretty disappointed that this is being hosted on Boston College's campus on Boston College's dime," said Jacob Ricco, president of College Democrats of Boston College and MCAS '21. "$6,500 to bring in a speaker with the history of pretty vitriolic and repugnant statements is quite upsetting to me and the rest of College Democrats." …

William Foote, MCAS '22, said that he disagreed with the protest.

"I would say it's inappropriate to simply silence someone just because of different views," Foote said. "There is divide in our culture, but this isn't the solution for it."

"I'd say over history they've sort of been the largest global power, so yes," he said when asked if he agreed that European culture is superior, although he said he was not familiar with Klavan's specific comments.

Ryne Meloy, a member of BC Republicans and MCAS '23, stood in the hallway next to the protest, with other members of BC Republicans, all of whom were standing while the protesters sat against the walls. He described the protest as "ridiculous."

"It's fun to watch," said Meloy when asked why members of BC Republicans were standing next to the sitting protesters. "I don't agree with protests."
Those who attended Klavan's talk were "met with boos and had their pictures taken by protesters" upon exiting the venue.
Klavan wrote about his experience at BC at The Daily Wire:
I mean, [the protesters] are being made stupid. They are. And these are, in a sense, privileged kids — I don't know each individual kid's background, but I know Boston College is not a cheap college, and only like a third — the top third of Americans go to college in the first place. So they're already the elite. They're not oppressed, they've never been oppressed and not having any problems, any real problems, unless they have some personal problem that has nothing to do with politics.

They have been turned into zombie instruments of the Left by people who don't want them to hear other opinions, because once they hear other opinions, they're going to realize that their Boston College professors have feet of clay and they're teaching them things that really aren't true.
The pundit added that, upon finishing his discussion, he had to be rushed out of the event "like Reagan after he was shot."
Read the Heights article and full Klavan piece.
MORE: Scripps College denies requests for Andrew Klavan to speak on campus
MORE: Stanford: Advertising for Klavan event threatens Muslim students
Like The College Fix on Facebook / Follow us on Twitter