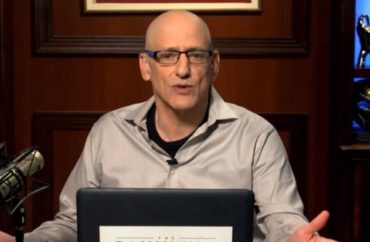 UPDATED
Conservative author's response: 'Screw you'
Andrew Klavan has strong opinions about Islam. In that, the conservative author is no different than progressives such as Bill Maher, Ayaan Hirsi Ali and the late Christopher Hitchens.
And according to Stanford University administrators, his appearance on campus this week brings to mind Easter bombings in Sri Lanka, the mosque shooting in New Zealand and synagogue shootings in America.
Wait, what?
Vice Provost for Student Affairs Susie Brubaker-Cole and Dean for Religious Life Tiffany Steinwert posted an inflammatory denunciation of Klavan's views, and the Stanford College Republicans for inviting him, on an official Stanford blog Monday.
Klavan didn't even speak on Islam at the Tuesday event, titled "Yes; America is a Judeo-Christian nation." But the administrators felt compelled to warn students in advance that Klavan "distorts the tenets of the Muslim faith" and that the SCRs were sullying the holy month of Ramadan by inviting Klavan to speak on any religious topic.
They also claimed the SCRs "targeted Muslims" by putting up flyers across the Muslim community center, known as the Markaz, "in an evidently deliberate attempt to disturb and disrespect our Muslim community. This is unacceptable behavior that undermines our community values."
After a throwaway line about Stanford's commitment to "free expression of diverse opinions," the administrators claim that inviting Klavan does not "model responsible use of free speech."
MORE: Brubaker-Cole denounces invitation of Jihad Watch director
They then engage in a bizarre comparison of disagreements about the meaning of Islamic scripture with killing people because of their religion:
We understand it can be deeply frustrating and painful to see speakers invited to campus whose ideologies disparage members of our community. Acknowledging this pain, we nonetheless encourage you to look beyond the sensationalism of speakers whose currency is controversy to the examples of people joining together across difference and standing in solidarity even in the face of hatred and slander.

Violence has shattered many communities, but we nonetheless stand together. Following the Easter bombings in hotels and churches in Sri Lanka, students, staff, and faculty gathered for a vigil in Memorial Church. Together we remembered and honored victims in Sri Lanka, in Pittsburgh and Poway, Christchurch and Charlotte. Students from diverse religious traditions stood in solidarity with communities impacted by this violence across the country and around the world. Together, they proclaimed life and love are always stronger than violence and hatred.
The College Fix has asked Stanford media relations to explain the relevance of the administrators' reference to religious violence in the context of the Klavan event, if they are not comparing Klavan's expressed views to the use of violence.
Klavan responded to the administrators at the Tuesday event. According to the sponsoring Young America's Foundation, Brubaker-Cole and Steinwert were in the audience.
The author said he usually ignores people who "call me names," but he'll respond in this because because college administrators called him a "bigot." His response is "Screw you":
The fact that anybody would give a hair on a rat's ass what these two [administrators] think is deeply disturbing.
MORE: Stanford staff encourage students to tear down flyers for talk on radical Islam
Ahead of @andrewklavan's YAF lecture at @Stanford, two administrators condemned him and his words on America's Judeo-Christian heritage.

This is how he responded last night as those same administrators sat in the audience.

Full story: https://t.co/8KkvLcbAP7 pic.twitter.com/cjnKw4vuvv

— YAF (@yaf) May 15, 2019
The SCRs responded to the statement by disputing that they "targeted" Muslims with the flyers. The Muslim center "occupies just one section of one floor of the building," and it's a "major mischaracterization" to suggest that putting "one flyer in the Markaz center as well as every other part of the building constitutes deliberate 'targeting,'" the group said:
We hope that Stanford administrators exercise more restraint before they issue a statement regarding one of our events. Frankly, as students who love our university, we find this statement incredibly embarrassing.
They told Stanford to accept the "fact" that "America is a nation built on Judeo-Christian principles, and that will always be the truth regardless of the time of year. … In attacking Klavan's views, the Stanford administration has once again underscored that it is unable to hide its ideological bias toward the left."
Opponents of the event tried to inhibit the event by "barricad[ing] the doors with several trash cans, tables and a chained lock," while placing juice behind the doors "in an attempt to make a mess of the room," according to an SCRs post Tuesday night.
The Young America's Foundation mocked the administrators for their "classic leftist double-speak," extolling "discussion" as long as "it's in lockstep with what they think."
The conservative organization noted that administrators did not condemn flyers with allegedly anti-Semitic depictions of the Jewish conservative pundit Ben Shapiro, posted by the university's Students for Justice in Palestine chapter last week.
"This is yet another example of the double-standard applied by administrators who favor one viewpoint at the expense of another," it said. SJP also vandalized the flyers for the Klavan event, the SCRs said.
Coverage of the Klavan dispute by The Stanford Daily neglects to mention the administrators' reference to religious violence as the apparent result of views like Klavan's.
Instead, the student newspaper focused on criticism of the event by Stanford Jewish Voice for Peace, an anti-Israel group, and the Jewish Student Association.
JVP Co-President Emily Wilder said that praise for Judeo-Christian civilization is "an intellectually defunct dog whistle with extremely dangerous implications," while JSA Co-President Coutney Cooperman denounced "the harmful impact of this specific rhetoric."
Read the statement, SCRs' response and Daily coverage.
UPDATE: Klavan responded to the administrators' statement at Tuesday night's event. His comments have been added, as have comments by his sponsor, Young America's Foundation.
MORE: Stanford student leader threatens to 'physically fight Zionists'
Like The College Fix on Facebook / Follow us on Twitter