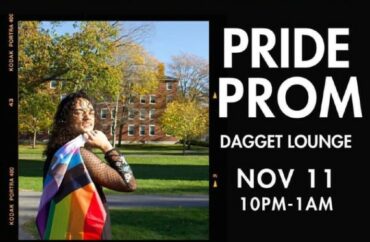 Billed as a night for LGBTQ students to be 'unapologetically you'
Bowdoin College hosted its first Pride Prom over the weekend, welcoming students to dance with a drag queen and dress in "whatever makes your queer (and ally) selves happy."
A project of Natalie Turrin, the new leader of the Maine college's Sexuality, Women and Gender Center, the event included drag queen host Gigi Gabor and "homosexual rhetoric" DJ Disco Dungeon, according to the center's Instagram page.
Turrin said Pride Proms help students "reclaim" a high school tradition that often is "very gendered and heteronormative," according to the college's news page.
"The hope is that it is something more than a party or dance, that it is an opportunity for self-expression in a way that was unavailable for many," Turrin said.
Her office partnered with the Center for Multicultural Life to organize the event. Their ads for the prom on Instagram invited students to "relive high school prom the way you always wanted to" and "be unapologetically you."
One post tells students the dress code is "whatever makes your queer (and ally) selves happy."
"It's a night for you to be whoever you want and to also get the prom experience you may have never had!" the Center for Multicultural Life wrote on Instagram.
The Bowdoin Sexuality, Women and Gender Center works through events like Pride Prom to build "awareness surrounding issues of gender and sexuality existing on campus and in the world," according to its website.
Pride Proms have been around for years.
One event in 2017 at Marquette University, a Catholic institution in Wisconsin, drew outrage from students and alumni who said it violated Catholic Church teachings, The College Fix reported at the time.
Most universities now have offices, programs and events dedicated to students who identify as LGBTQ. A 2022 report by the Center for the Study of Partisanship and Ideology found almost 40 percent of students at liberal arts colleges identify as something other than heterosexual.
MORE: At Dartmouth's debut Pride Parade, students, dean celebrate 'queer joy'
IMAGE: Bowdoin College Sexuality, Women and Gender Center/Instagram
Like The College Fix on Facebook / Follow us on Twitter