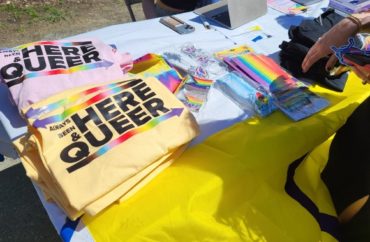 'We are beautiful. We're free, and we can just be whoever we want to be,' speaker said
HANOVER, NH — Dartmouth College recently hosted its first Pride Parade sponsored by the student drag club and the college administration and featuring an enthusiastic speech by the senior dean.
Approximately two dozen students marched across the Dartmouth Green, waving pride flags and carrying signs while Lady Gaga's "Born This Way" played over loudspeakers during the event on Sunday, May 7.
The May parade was part of the college's Pride 2023, "the annual springtime celebration of the LGBTQIA+ community and queer joy," according to Dartmouth's website. Other events included a drag show by the House of Lewan and an exclusive commencement event for the LGBTQIA+ community, "Lavender Graduation."
The Rockapellas, an a capella group at Dartmouth founded "with the mission of spreading social justice through song," performed following the speeches.
Volunteers had arranged tables along the college's major Massachusetts Row pathway to form a block party. Booths staffed by various student clubs and outside groups such as Planned Parenthood offered free swag, including stickers, rainbow-colored flags, and shirts with the slogan, "Always Been Here & Queer."
"It's a historic occasion and an honor to speak with you for many reasons," Dean Scott Brown said in a speech following the parade.
Brown, who offered his pronouns as "he/him," is "the senior officer responsible for academic and co-curricular life at Dartmouth," according to the college's website.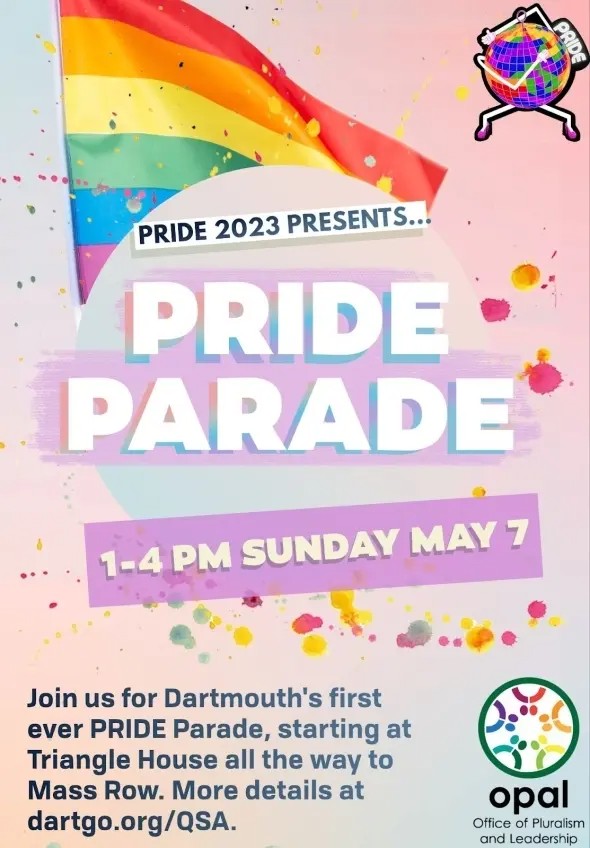 He discussed his upbringing, explaining he "was blessed with an incredible amount of chosen family with many 'aunts' and 'uncles,'" and his family opened their home to anyone who needed a place to stay.
"As a teen, my mother worked in the same fabric house in New York City with the brave and pioneering actress Christine Jorgensen, who was one of the earliest Americans to receive sexual reassignment surgery," Brown said.
"Did that have an impact on their parenting?" Brown said.
"Did your parents take you to a drag show for your 21st birthday?" he said. "Mine did."
"Dartmouth is better because of you," Brown concluded, addressing the crowd.
"This whole experience–it's done with OPAL [the Office of Pluralism and Leadership]," he said. "We have an office that's dedicated to all different types of backgrounds."
Brown cited Pride month as programming for the LGBT+ community at Dartmouth, and said "Dartmouth is the best it's been."
He described Dartmouth's College-sponsored drag club, The House of Lewan, as "both educational and entertaining."
The College Fix asked for comment on the sexualized nature of performances by The House of Lewan, Dartmouth's student-sponsored drag club, including a strip-dancing nun performance that raised concern in Dartmouth's Christian community. A burlesque performance featuring a topless dancer dressed as a nun was one act among many at a November Dartmouth College event hosted by the House of Lewan, The Fix reported.
"It's your own community, so as long as they're not violating any kind of standards on any part of the spectrum; that we support freedom of expression and students' capacity to do that," Brown said.
Pride committee co-chair Rosario Rosales also spoke to the crowd.
"As we began our celebration today, I would like to acknowledge that pride started as a riot against policing our love and expression and was started by marginalized members of our community, BIPOC folks, and trans people," Rosales said. "It is thanks to these riots as well as the people who persisted with them throughout the years that we are able to celebrate today."
Rosales also spoke about her experiences being a lesbian and a "student of color," saying it was not easy.
"I have spent the past two years navigating through spaces that weren't necessarily built for me and have struggled to find my community," Rosales said. "Dartmouth College cannot truly stand as radiant and friendly as it is without our LGBTQIA+ community."
Izzy Morales, a transgender student who uses he/they pronouns, also gave a speech, describing his experiences as a queer person at Dartmouth as being "both liberating and constraining."
"On this campus, I was fortunately able to start HRT and begin my transition," Morales said.
Student Tanaka Chikati described her home country of Zimbabwe as "very homophobic."
"It is so sad because every time that I think about homophobia, I think about colonization because before colonization, our communities were so loving; they were so caring," she said. "Queer people existed and were seen, heard, and could express themselves."
Chikati said steps like asking people's pronouns and taking care not to misgender anyone helped to uplift the community during Pride.
Chikati also said Dartmouth could be isolating because it is a "predominantly white institution," and given its location, there are few opportunities to attend Pride parades.
"Pride is a time to come together with others who may or may not share my experiences and to celebrate the progress we've made, while also acknowledging the work that still needs to be done."—Vincent Sun '26, co-chair of the Pride committee. https://t.co/oJKfoNz5GJ

— Dartmouth 🌲 (@dartmouth) May 10, 2023
"[Pride] is a reminder that we are here and we exist," Chikati told The Fix. "We are beautiful. We're free, and we can just be whoever we want to be."
MORE: Here's why asking for gender pronouns is like a religious test
IMAGES: @Dartmouth/Twitter, Dartmouth College
Like The College Fix on Facebook / Follow us on Twitter