UPDATED
Take the pledge, then hang it on your door
Brandeis University's Heller School for Social Policy and Management has created a "diversity pledge" that the school's community is urged to commit to publicly.
"Each year Heller students, faculty and staff reaffirm this pledge and post a signed copy on their office doors," according to the school's website.
The 115-word "Heller Diversity Pledge" states that those who sign it are to be "aware" of their own biases and to "intentionally and consistently act to address societal inequity and injustice."
The pledge's supporters also pledge to "engage in respectful dialogue and language that is responsible and sensitive to the opinions of others and free of rancor and attack, in and outside the classroom."
On the Heller School's Diversity, Equity and Inclusion webpage, students are directly encouraged to "Take the Pledge."
"It is the responsibility of each and every member of the Heller community to acknowledge the meaningful differences that inform each individual's identity, and to uphold and defend our shared values as we strive to create a more equitable future for all," it reads.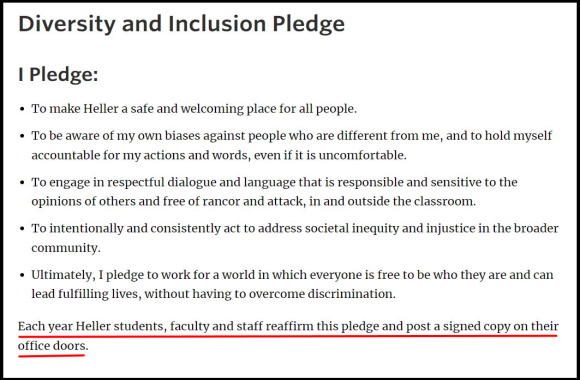 A Diversity, Equity and Inclusion representative did not respond to a phone call and email seeking comment.
Brandeis spokesperson Julie Jette told The College Fix that the pledge is not mandatory.
MORE: Nearly 20 percent of faculty jobs require diversity pledge: report
In addition to the pledge, the Heller School offers a wide variety of diversity, equity and inclusion programs.
For instance, the Heller Mentorship Program promises to help better serve and "promote the inclusion of diverse identities." The mentors within the program are tasked with "assisting the next generation of leaders committed to social justice."
"[W]e are committed to equity, inclusion and diversity in our research institutes, academic programs, policies and community relationships," the Equity, Inclusion, Diversity webpage reads.
The school also offers a series of lectures on progressive topics such as "activism after incarceration," "LGBTQ+ Justice," and "Immigration policy advocacy."
As for the "diversity pledges," they are not new.
Many universities offer an iteration of them. The University of Colorado Boulder offers a diversity pledge through its biomedical department. Indiana University and Oakland University have similar pledges. However, in these cases, it seems that signing the pledge is a voluntary act.
Heller's DEI webpage references a letter from the school's Dean David Weil. The January 2021 letter, titled "Facing Institutional Racism: Our Approach and Our Commitment," promised that the school would address "systematized" racism through initiatives such as the 21-Day Racial Equity Challenge and the 7-Day Anti-Racism Challenge.
Editor's note: After publication, a Brandeis spokesperson contacted The College Fix to say the pledge is not mandatory, and the article has been updated to include that information.
MORE: University of Illinois requires all faculty to engage in DEI activism, or else
IMAGES: Main, Asier Romero / Shutterstock; Inside, Brandeis screenshot
Like The College Fix on Facebook / Follow us on Twitter