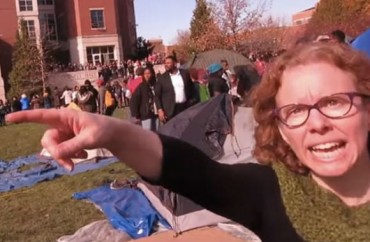 Physically assault student journalists at the University of Missouri and you'll get a slap on the wrist.
Communications Prof. Melissa Click took a "deferred prosecution agreement" with the city prosecutor after she tried to "muscle" out student reporters covering a protest last fall, and will instead serve 20 hours of community service, the Municipal Prosecutor's Office said Friday.
Statement from city prosecutor Stephen Richey about disposition reached in Melissa Click's case. pic.twitter.com/SdLRufjoWS

— Mark Schierbecker (@Schierbecker) January 29, 2016
If she attacks any more student journalists – like Tim Tai or our own new writer Mark Schierbecker – her prosecution will resume, the office said.
Click was charged with assault Monday and suspended by Mizzou Wednesday. She's in the midst of the tenure review process.
Read the prosecutor's announcement.
h/t Robby Soave
Like The College Fix on Facebook / Follow us on Twitter
IMAGE: Mark Schierbecker/YouTube