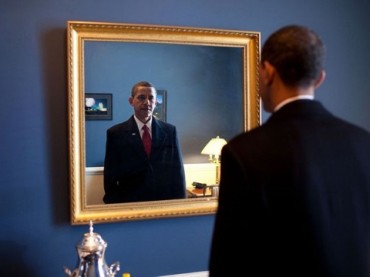 It's not me, it's you. That is the message the South Dakota College Republicans have for President Obama in a new video released last week, set to the song "Say Something" by A Great Big World.
The video depicts millennials "breaking up" with Obama like teenagers would break up with their significant others – his Facebook page is unfollowed, his pictures torn up, his text messages ignored.
Joe Schartz, chairman of the South Dakota College Republicans, told The College Fix that "Say Something" was "one of the saddest songs" he had ever heard. He thought it would be funny to use the popular song to show the weakening relationship between young people and Obama, believing the video would resonate with those who have gone through breakups.
Schartz believes the growing uneasiness with Obama among younger voters, who were instrumental to his election, is because they were drawn in by his large promises and the media hype surrounding him, but are now realizing it was mostly hype. He said millennials should vote for Republicans because they offer a stronger economy, less expensive healthcare and less government spying: "Your quality of life will be better when governed by conservative policies."
The time was ripe for such a video, as recent polling provides evidence that millennials are breaking up with Obama and the Democratic Party. In a Harvard Institute of Politics survey  conducted between October 30 and November 11, and released in December, only 33 percent of young voters approved of Obama's handling of the economy and just 34 percent his handling of healthcare.
While the percentage of millennials identifying as Republicans has stayed relatively constant since the 2012 election at 25 percent, the number identifying as Democrats has fallen 12 percentage points, from 43 percent the week after the 2012 election to 31 percent the following November, leaving a much smaller gap between young Democrats and young Republicans.
Future elections may show that Democrats will have to work harder for millennials' votes. Schartz said Republicans "are working hard to turn out a demographic that Democrats are taking for granted."
The video has drawn significant media attention. It was featured on IJ Review, Young Conservatives and Chicks on the Right, and discussed on the Fox News show Red Eye by host Greg Gutfeld and his guests.
Young Conservatives said it was "the best video of the year," while Chicks on the Right called it "kind of awesome." The video had more than 63,000 views as of Wednesday morning, with many YouTube commenters saying they could relate to the video or that they had talked to disenchanted Obama voters who could probably identify with it.
The South Dakota College Republicans have received "a wide variety of responses," Schartz said: The video really resonated with friends and family who voted for Obama but would no longer admit it.
Schartz believes the video highlights the rebranding effort the GOP is undergoing. "We believe young voters understand the consequences of the last two presidential elections, and they are ready for a new style of conservative leadership."
College Fix contributor Matt Lamb is a student at Loyola University-Chicago.
Like The College Fix on Facebook / Follow us on Twitter
IMAGES: Pete Souza/White House, Internet screenshot