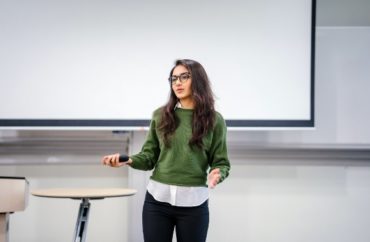 Written and take-home test have serious problems. It's time to return to old-school evaluations
Exams in which students must verbally articulate what they have learned could address a host of higher education problems: the prevalence of cheating, post-COVID screen dependence, essay-writing artificial intelligence, and students' difficulty in thinking for themselves.
"If done right, oral exams can be more humane than written assessments," historian Molly Worthen wrote on December 2 in The New York Times. 
"Oral exams have been around at least since Socrates grilled Meno on the nature of virtue," Worthen stated. "Students at medieval universities in Europe debated one another and their teachers in oral disputations and endured public interrogation by committee viva voce — 'with the living voice.' In the 1600s, all exams at Oxford and Cambridge were oral, and in Latin."
However, written exams won out at many schools because they "carried an aura of rigor, objectivity and modernity," Worthen wrote. "They provided a permanent record of performance, and made it easier to rank students and subject a mass of them to standardized questions."
"The undergraduate oral exam seemed more and more like a premodern artifact — especially as access to college education in Britain and North America expanded and instructors needed to churn out huge numbers of assessments," she continued.
However, instructors increasingly have found that oral exams can test a student's internalization and synthesis of information in a way that may be impossible on a standardized test, Worthen stated.
Oral exams rule out common crutches students use to circumvent learning, such as cheating and, increasingly, artificial intelligence 
Cheating soared during COVID with the prevalence of online learning and tests, which many instructors still use.
However, face-to-face encounters with professors during exams make impossible many cheaters' strategies, such as looking up answers online, texting friends, and exploiting open-book exams.
Oral exams also counter the problem of artificial intelligence, which is become better and better at writing exam-quality essays and may serve as a crutch in open-book or take-home exams.
"The web-based GPT-3 software program, which was developed by an Elon Musk-backed nonprofit called OpenAI, is a kind of omniscient Siri or Alexa that can turn any prompt into prose," Jeff Schatten wrote in a September 14 op-ed in The Chronicle of Higher Education. "You type in a query…and GPT-3 spits out a written response. These outputs can be astonishingly specific and tailored."
"It won't be long before GPT-3, and the inevitable copycats, infiltrate the university," Schatten stated. "The technology is just too good and too cheap not to make its way into the hands of students who would prefer not to spend an evening perfecting [an] essay."
With oral exams, however, there's no AI in the wings to generate content for students. They're forced to rely on their own recall and intelligence.
Oral exams can also give students a rehearsal for the verbal presentations and interactions they will face in their working lives, which may reduce stress overall, Worthen wrote.
"I would rather [a patient] be anxious and potentially break down in tears with me in my office than at [an] interview for grad school, or with a patient in five years," according to Anne Crecelius, a physiology professor interviewed by Worthen who has been using oral exams for her students at the University of Dayton for many years.
"The consequences of anxiety leading to decreased performance in this setting is the safest it will be in a while. So let's push you to that point, and give you feedback and strategies along the way," Crecelius stated.
Indeed, Worthen wrote that college graduates she interviewed stated that they wished they had had moral oral exams during college to prepare for the verbal presentations and other public speaking demands of professional life.
Worthen even recommends that students use their phones to record oral exams so they can review their performance afterwards.
Oral exams can help students model productive disagreement and find their own voice
Even more, in campus cultures where students are intimidated to disagree, oral exams may also help students practice articulating ideas for difficult confrontations inside and outside the classroom.
"I thin oral exams can be a solution to that feeling of students not being able to speak their minds in class," Chidera Onyeoziri, a law student who had benefited from oral exams in college, told Worthen.
The ancient form of evaluation may be uniquely suited to many academic deficits of the twenty-first century.
MORE: Texas universities argue for right to revoke degrees for academic cheating
IMAGE: mentatdgt/Shutterstock
Like The College Fix on Facebook / Follow us on Twitter