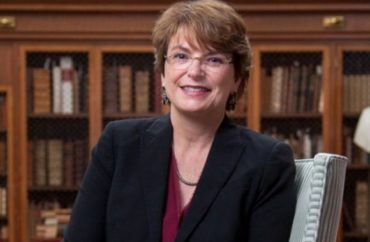 The university will review how to cut ties with 'science disinformation' purveyors
The president of Brown University announced recently that she is looking into how to end relationships with "individuals and organizations that promote science disinformation."
President Christina Paxson (pictured) announced on April 23 the review of gift and grant policies and "business ethics practices." She has established two new committees to review the university's practices as they relate to working with people and groups that potentially spread "science disinformation."
She stated that "science disinformation is contrary to our mission of advancing knowledge and understanding" and as a result "the University will not conduct business with individuals and organizations that directly support the creation and dissemination of science disinformation."
She defined this "as knowingly spreading false information with the intent to deceive or mislead."
Paxson had previously "gave a tentative response" to the recommendations of the Advisory Committee on University Resources Management, according to the Brown Daily Herald.
The College Fix contacted President Paxson's office twice in the past two weeks, and asked the names of specific companies that are problematic and comment on the proposals.
Scholars at Brown for Climate Action thanks president for taking action
The recommendations came from the Scholars at Brown for Climate Action group, which, along with the Advisory Committee on University Resources Management, has created proposals since at least November 2021.
"We applaud the President for her leadership and support her efforts to rein in the influence of disinformation at Brown!" SBCA stated on Friday in a news release.
ACURM previously recommended that Brown modify its Gift and Funding policy, based on proposals brought forward by the academic group.
ACURM recommended the university "refus[e] to do business with organizations that knowingly undermine science or science-based policy" and those that "support organizations that advance climate science disinformation."
The Fix contacted ACURM three times in the past two weeks via email and asked for examples of companies that would be included under the policy, as well as specific examples of what it means to deny climate science. The university advisory committee did not respond.
SBCA stated that it wanted "a national or international clearinghouse" to create a "yellow" [and] "red list" of offenders.
"After review by a subcommittee of ACURM with support from the Climate and Development Lab and other faculty and staff (or eventually a national nonprofit), organizations could be informed that they have been placed on the Disinformation Supporter Yellow List," the memo stated. "[Organizations] could be re-reviewed before being put on a Disinformation Supporter Red List."
According to the SBCA, it is up to the corporations to prove that they do not spread science disinformation.
"[Organizations will be] offered the opportunity to prove that they have not, or have ceased to support science disinformation. [They] could be given 1 or 2 years to address the issue, and could be re-reviewed," the SBCA stated in its proposal.
President Paxson rejected the idea of blacklisting organizations in her April 23 announcement. Paxson said the methods "are not finely targeted enough to accurately identify organizations or individuals that advance science disinformation, and it would be inappropriate to use these methods for decision-making on gifts and grants."
MORE: Academics ask universities to refuse fossil fuel funds
One professor with the climate action group had previously said Brown University could pioneer an approach to screening donors.
"Brown could become a leader in this area by leading an effort to create a clearing house or protocol … to screen donors and business partners," Professor Timmons Roberts told the student newspaper in March.
"Large non-profits and universities will be very interested in this," the environmental and sociology professor said. "We could make a huge difference on a number of issues that are really fundamental to our values."
The College Fix contacted Professor Roberts for comment three times via email in the past two weeks.
The Fix asked if he had any concerns that prohibiting funding from oil and gas companies would ostracize professors who conduct this research, and if there are any specific companies he can think of that would have to refrain from providing money to Brown University due to policy. He did not respond to requests for comment.
MORE: Biden ask Brown University to admit son of Hunter's business pal
IMAGE: Brown University
Like The College Fix on Facebook / Follow us on Twitter