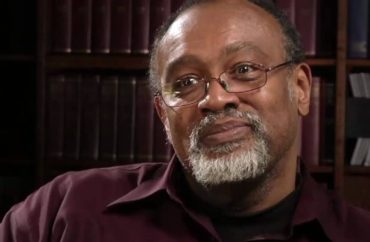 UPDATED
'Who cares what some paper-pushing apparatchik thinks?'
Twenty-one Brown University "senior leaders," starting with President Christina Paxson, Provost Richard Locke and Vice President for Human Resources Amanda Bailey, sent a letter to the community "Confronting racial injustice" last week.
One of its star economists, Glenn Loury, read the letter. He didn't react the way that campus bureaucrats expect all black people to react. The letter "frightens, saddens, and angers me," Loury writes in City Journal.
Brown leaders – led by the trio of Paxson, Locke and Bailey – claimed that the recent killings of Ahmaud Arbery, Breonna Taylor and George Floyd were "not a mere moment for our country" but "historical, lasting and persistent," oppressing black people "every minute and every hour."
Without consulting faculty, the statement promises to use the university's "tremendous resources in our departments" to "interrogate the persistent and deeply disturbing issues related to race, racism and police violence in America":
In the weeks and months to come, we will leverage the expertise of our faculty, staff and students to develop programming, courses and research opportunities designed to advance knowledge and promote essential change in policy and practice in the name of equity and justice.
MORE: Black scholars challenge progressive narratives in forum
Loury is aghast that the university claims it has the authority to force this on faculty. The economist, recently known for his criticism of the 1619 Project, mocked the letter as "obviously the product of a committee" and signed unthinkingly by senior administrators.
He said it either "affirmed platitudes to which we can all subscribe, or, more menacingly, it asserted controversial and arguable positions as though they were axiomatic certainties":
It trafficked in the social-justice warriors' pedantic language and sophomoric nostrums. It invoked "race" gratuitously and unreflectively at every turn. It often presumed what remains to be established. It often elided pertinent differences between the many instances cited. It read in part like a loyalty oath.
Every paragraph more or less usurps the Declaration of Independence, except these "truths" are "that racial domination and 'white supremacy' define our national existence" 155 years after the Civil War, Loury writes.
Administrators can't speak "as a whole and with one voice" on "contentious current events" without marginalizing the faculty, who are the true leaders "when it comes to the realm of ideas," he continues: "Who cares what some paper-pushing apparatchik thinks? It's all a bit creepy and unsettling."
MORE: Black law scholar explains how critical race theory is destructive
He mocks the non-faculty for their "propaganda" and disinterest in "nuance and complexity":
Is it obvious that "hate"—as opposed to incompetence, or fear, or cruelty, or poor training, or lack of accountability, or a brutal police culture, or panic, or malfeasance—is what we observed in Minneapolis [with the death of George Floyd]? We are called upon to "effect change." Change from what to what, exactly? Evidently, we're now all charged to promote the policy agenda of the "progressive" wing of American politics. Is this what a university is supposed to be doing?
Instead, administrators are practicing "indoctrination, virtue-signaling, and the transparent currying of favor with our charges," mirroring "a Soviet Politburo making some party-line declaration." He assumes administrators are simply trying to "forestall any student protests by declaring the university to be on the Right Side of History."
The letter fails to "affirm the primacy of reason over violence in calibrating our reactions to the supposed 'oppression,'" which is what any university should be doing right now. Instead, it harkens back to the violent movements – Russian, French and 1960s revolutions – that also claimed they were "fighting for social justice," Loury says.
Read the administration letter and Loury's response.
CORRECTION: The post originally misidentified one of the leaders who signed the letter. The error has been fixed.
MORE: Dissenting black scholars launch '1776' initiative to counter 1619 Project
IMAGE: Federal Reserve Bank of St. Louis/YouTube
Like The College Fix on Facebook / Follow us on Twitter