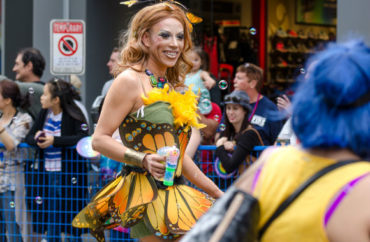 Would 'set a dangerous precedent' for philosophers in general
The University of California-Santa Barbara is still investigating graduate student Laura Tanner, as far as anyone knows, for her outspoken criticism of transgender ideology.
Such investigations are the fruit of a growing movement to punish and silence feminists like Tanner, known derisively as trans-exclusionary radical feminists. The debate is particularly hot in academic philosophy.
Not all academic philosophers are on board with forcefully ending debate on the nature of gender, sex, identity and biology, however.
A dozen of them, from Australia and England to Canada and America, published an open letter in Inside Higher Ed. They warned that their very discipline is endangered by attempts to marginalize those who aren't on the transgender train:
The proposed measures, such as censuring philosophers who defend these controversial positions or preventing those positions from being advanced at professional conferences and in scholarly journals, violate the fundamental academic commitment to free inquiry. Moreover, the consequent narrowing of discussion would set a dangerous precedent, threatening the ability of philosophers to engage with the issues of the day.
The philosophers make clear that many philosophical debates, not just over gender identity, "can lead to pain, anxiety and frustration when they challenge deeply held commitments."
One of them is the "moral status of fetuses or nonhuman animals." The highest-profile signatory, Peter Singer of Princeton and the University of Melbourne, is infamous for arguing that animals have greater worth than human infants. He was also shouted down by disability rights activists in a Skype lecture two years ago.
And there's nothing close to "incitement or hate speech" in the arguments made by their philosophy colleagues that gender identity is not a solid basis for public policy decisions "in contexts as varied as competitive sport, changing rooms, workplaces and prisons":
These discussions are of great importance, and philosophers can make an essential contribution to them, in part through academic debate. Philosophers who engage in this debate should wish for it to be pursued through rational dialogue, and should refuse to accept narrow constraints on the range of views receiving serious consideration.
The dozen philosophers "enthusiastically" welcome trans and gender-nonconforming peers into the philosophy profession, but reject calls for "censuring or deplatforming" their colleagues for their arguments or advocacy for "sex-based rights."
In more strident language, they condemn the "too frequently cruel and abusive rhetoric" lobbed against polemicists such as Tanner that they are full of hatred and transphobia.
Only four of the signatories are exclusively affiliated with American institutions: José Luis Bermudez of Texas A&M University, Edward Hall of Harvard, Thomas Kelly of Princeton and John Schwenkler of Florida State University.
IMAGE: Brian Ganter/Shutterstock
Like The College Fix on Facebook / Follow us on Twitter