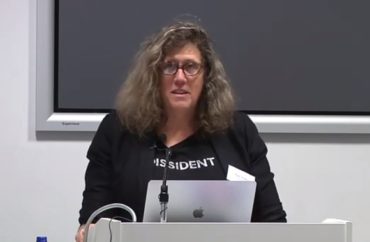 Like telling foreigners they don't belong in the United States
It's not enough for some academics to say that women who choose biology over subjective mental states are "transphobic."
One of them says these women, known by the slur "trans-exclusionary radical feminists," are in the same league as the Ku Klux Klan.
The subject is dissident feminists in academia, such as the University of California-Santa Barbara's Laura Tanner, who argue that treating men as women based on their gender identity is misogynistic at its core and invalidates women.
A professor of gender and women's studies at the University of Arizona, Susan Stryker, tells Inside Higher Ed that female identity is like immigration:
If womanhood is a "a restricted country," Stryker said, citing the writer Joan Nestle, "Who says what those restrictions shall be? Who is womanhood for? How does one become its citizen?"

It's "legitimate to ask all such questions," Stryker continued. "There should be no bounds on academic inquiry." Yet "what I see in the TERF wars is not disinterested academic inquiry," she added. "It's more akin to white supremacists wanting to propagandize other whites about foreigners, where the position of foreigners in the conversation has been deemed illegitimate in advance."
MORE: U. Arizona launches nation's first trans studies program with Stryker
Academic philosophy is going through a reckoning now because of freewheeling debates about trans identity. That prompted one trans graduate student to leave the field, arguing in a Medium post there should be no debate on trans women (biologically male) as real women.
The grad student, who identifies as female, specifically questioned the Aristotelian Society for inviting a dissident feminist philosopher and active Twitter user, Kathleen Stock of the University of Sussex, to speak to the 139-year-old philosophy debate group:
How can I be expected to attend professional events and participate in a professional culture where others allow this to happen [Stock's trans-skeptic tweets]? As a trans person, I deal with oppression on a daily basis. It is not hyperbole to say that I am fighting for survival. …

My gender is not up for debate. I am a woman. Any trans discourse that does not proceed from this initial assumption — that trans people are the gender that they say they are — is oppressive, regressive, and harmful. It comes at a huge cost to me and other trans people both mentally and emotionally to engage with transphobes, whereas it's easy for transphobes to write transphobic arguments.
Stock, who defended UCSB's Tanner as her university opened an investigation into complaints about her, responded to the grad student in her own Medium post: "Adults make their own decisions, and clearly, a job in philosophy doesn't suit everyone."
MORE: Stryker says plastics, whiteness, 'transness' are linked
I know this is hard to believe. It's incomprehensible how this could happen in the heart of the NHS. But it reflects what I've been told by those working at the Tavistock. A complete overhaul of the service and its protocols is urgently required https://t.co/UhYClO04yL

— Kathleen Stock (@Docstockk) July 14, 2019
Some professors in philosophy and gender studies are wary of cutting off academic debate on the subject, particularly by empowering Title IX offices to investigate people such as UCSB's Tanner.
Brooklyn College's Paisley Currah, a women's and gender studies professor who founded the journal Transgender Studies Quarterly with Stryker, distinguished between the personal treatment of transgender people and the academic treatment of transgender identity to Inside Higher Ed:
"No matter how much I agree with the content of the objections to 'research' that dehumanizes trans people, I would think long and hard about giving university administrations power to adjudicate speech and the legitimacy of research questions," he said via email. "Using Title IX in this way may seem like a solution, but in the long term that strategy expands university administrations' policing power over all of us."
University of South Carolina philosopher Justin Weinberg, who runs the philosophy blog Daily Nous and was specifically criticized in the trans grad student's Medium post, wrote a "very long post" laying out his response.
Philosophy journals, conferences and other platforms should "not ban trans-exclusionary works simply because they are trans-exclusionary," Weinberg said, but rather should exclude those considered ill-informed, include pro-trans viewpoints whenever accepting anti-trans viewpoints, and give "explicit statements of support" to trans people.
UCSB has yet to tell The College Fix whether espousing so-called TERF viewpoints is a conduct-code violation in general or specifically for instructors like Tanner.
MORE: UCSB investigates Tanner for saying men can't become women
IMAGE: CRASSH Cambridge/YouTube
Like The College Fix on Facebook / Follow us on Twitter