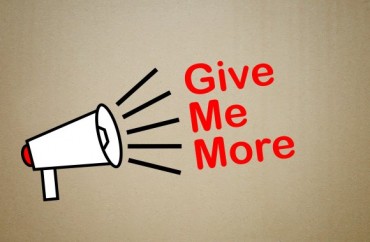 A coalition of students at California Polytechnic State University want the school to shelve out over $140,000 to various campus identity centers so that marginalized students will feel more welcome.
Student Alejandro Bupara, who identifies as "mestizo Latino and queer," says Cal Poly is a place "that's really hard for us to be at […] when we come here, we are being pushed out from the start."
According to The Tribune, the new funding is one of two demands put forth by Bupara and others to address the "lack of affordable housing, overt racism by white students, and sexual violence that disproportionally victimizes women of color and transgender people." (Oh, also the "seemingly endless flow of microaggressions" faced by historically oppressed students.) The other is the addition of more advocates "to support survivors of sexual violence."
The Black Academic Excellence Center and the Dream Center would get $25,000 each under the coalition's proposal; the Gender Equity Center, MultiCultural Center, Pride Center, the Ethnic Studies Department, and the Women's & Gender Studies Department each would receive $18,200.
The coalition justifies the expenditures by noting the university spent the same amount on security for a pair of Milo Yiannopoulos events.
It's been more than a year since a photo emerged of a student in blackface at a gang-themed frat party. That incident is still fresh in students' minds.

A student in another photo dressed as a "gangster," wearing jeans cuffed over throwback Nikes, a white T-shirt and a backwards baseball cap — an outfit, Bupara says, that is "more or less my outfit on any given day."

"Everybody seeing that photo was not surprised, but so, so angry, because these people will never understand the situation that they're mocking. And, they are the ones that look sideways at black and brown students when we come into classrooms. They're the ones that will whisper about us," Bupara said.

After the blackface photo emerged, student Martina Odusanya turned to the Black Academic Excellence Center. Odusanya, who studies liberal arts and engineering, is also vice president of the Black Student Union and has a chair position on the National Society of Black Engineers.

"A lot of us were feeling down. The larger Cal Poly community didn't understand our feelings of sadness, feeling oppression and feeling attacked," she told The Tribune. "Having a space like that, it helps knowing you have support. It builds a sense of community."

The center is one of the institutions that the coalition says is understaffed and underfunded.
Cal Poly's diversity initiatives have shown "no tangible results" according to Odusanya. "We're kind of yelling into the void, and they're not listening to us," she said.
University spokesman Matt Lazier replied "We know that not everyone will agree with every budgetary decision. Nevertheless, university leaders are listening."
MORE: U. Rochester students, staff hold 'healing vigil' for 'marginalized' students
MORE: Minority students feel 'marginalized' by building's 'masculine' paneling
IMAGE: dzaky murad / Shutterstock.com
Like The College Fix on Facebook / Follow us on Twitter