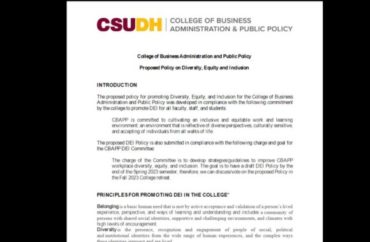 Classes should 'draw on gender, racial, and ethnic minority scholars'
A proposed DEI policy at California State University Dominguez Hills could restrict academic freedom and First Amendment rights, according to a free speech group.
The policy, proposed by the university's business and public policy school, will require the professors to include diversity, equity, and inclusion into the syllabus and lecture material.
The university is promoting DEI within its campus because it seeks to create an atmosphere of "belonging, diversity, equity, inclusion, inclusive climate, and social justice," according to the proposed new DEI policy.
CSU Dominguez Hills' proposed policy states that it will incorporate "evidence of equity-minded language presented in course syllabi."
The new policy would survey courses to ensure class discussions "draw on gender, racial, and ethnic minority scholars' work as well as the lived experiences of Indigenous, and People of Color populations" and that "equity-minded grading policies" are being used.
However, these policies could go against the faculty's First Amendment rights by "explicitly rewarding such participation – and penalizing its absence,'' according to the Foundation for Individual Rights and Expression.
"FIRE is concerned that the proposed DEI policy requires faculty to affirm certain viewpoints and implement DEI materials into their teaching that they otherwise would not have," Program Officer Sabrina Conza told The College Fix via email. "These risk facultys' academic freedom and freedom of conscience, in violation of the university's First Amendment obligations."
"When universities compel faculty to implement certain ideologies into their teaching, they violate faculty academic freedom rights," Conza told The Fix. "But in violating faculty rights, the university impacts students' rights to learn from their instructors."
MORE: UCSF sued for program that pays racial minorities only
The university did not respond to multiple emails in the past two weeks from The Fix that asked for the motivation behind the policy, how it will benefit students and if there are any First Amendment concerns.
The group laid out its concerns in a letter to the university in a June 5 letter as well. It has yet to hear back as of July 7.
"CSUDH cannot penalize faculty for following the dictates of their own conscience, and must respect their academic freedom to decide what pedagogically relevant material to teach and how to teach it," FIRE wrote. "The university therefore cannot require faculty to gear teaching toward a prescribed set of contested political ideals."
Administrators can "easily abuse" the "subjective criteria" "to punish faculty with minority, dissent ing, or even nuanced views on DEI – related issues that may be at odds with popular sentiment or evaluators' views," FIRE wrote.
The university should reject the proposed policy, according to the free speech group. The university should "consider the unintended consequences for faculty whose views, pedagogical choices, or associations are unpopular, or simply out-of-step with the majority on or off campus."
"To protect academic freedom and to honor the individuality of CSUDH's faculty, we urge you to reject this proposed policy."
Other universities have sought to use support for DEI in personnel decisions, including Indiana University's medical school and the University of California Santa Cruz.
MORE: FAU committee asked candidate if he was 'queer'
IMAGE: California State University Dominguez Hills
Like The College Fix on Facebook / Follow us on Twitter