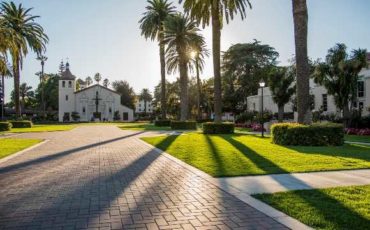 Any trespasser previously barred from campus could face jail time
The California State Assembly Committee on Public Safety heard testimony Wednesday on a bill that would amend criminal trespassing laws that govern college campuses to apply to private universities as well.
The bill would make it a misdemeanor for any student or employee suspended with a prior hearing "for disrupting the orderly operation of the campus" to be on school grounds, according to a May 31 analysis by the public safety committee.
Senate Bill 748, introduced by Democratic Senator Anthony Portantino, passed the California Senate unanimously in January.
Current California law classifies as a misdemeanor any person's act of "willfully and knowingly" entering a public campus after he or she has been banned.
Anyone unaffiliated with the institutions, or those who have been suspended or dismissed, can be barred for disrupting the orderly operation of the campus or facility of the institution, according to the bill.
A person found guilty of the misdemeanor can be penalized by a fine of up to $500 or jail for up to six months, or both.
The Association of Independent California Colleges and Universities "has heard instances" of trespassers on private campuses who addressed racist comments to Asian and Pacific Islander students and sexually harassed female students, according to Cal Matters.
Currently, private colleges can only hand out warning letters to trespassers, the news outlet reported. The letters are inconsequential because they can't stipulate concrete consequences, according to the bill's supporters.
California policing associations and the the independent college association support the bill, Cal Matters reported.
Equal Rights Advocates, a nonprofit that advocates for women's issues has also come out in support of the bill based on reports from students who say they have experienced sexual assault or harassment, according to the California news site.
Many private colleges, including Santa Clara University (pictured), which supports the bill, have an open campus that community members can generally enter at will, according to the site.
Some students expressed concern over police misconduct
Cal Matters interviewed several California students critical of the bill, including recent Pitzer College graduate Alessia Milstein said that reliance on campus police to determine who belongs on campus would mean "allowing [racial biases] to run freely."
"You're trying to solve every conflict with a catchall that is rooted in colonialism and white supremacy," Milstein said.
MORE: Universities boost police and security funds to tackle crime
IMAGE: Santa Clara University/Facebook
Like The College Fix on Facebook / Follow us on Twitter